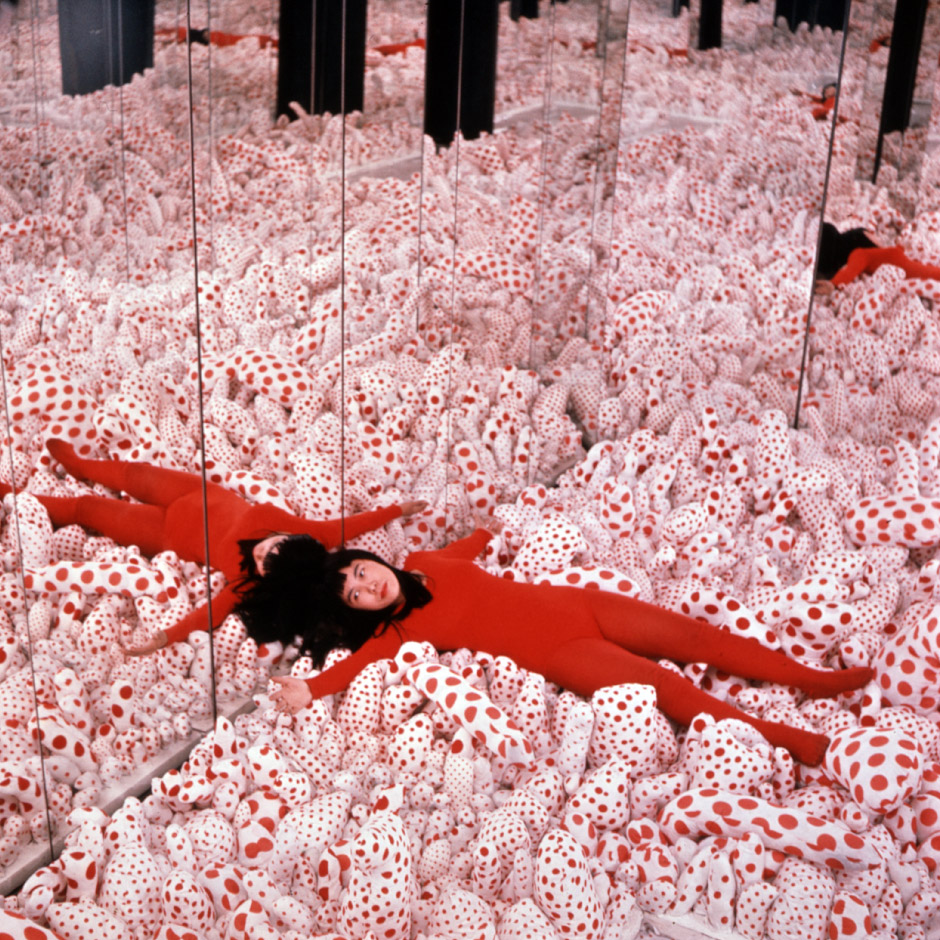 Feb 23–May 14, 2017
Lose yourself in the dazzling world of Yayoi Kusama—rebel, icon, and worldwide phenomenon
Yayoi Kusama: Infinity Mirrors is a celebration of the legendary Japanese artist's sixty-five-year career and promises to be one of 2017's essential art experiences. Visitors will have the unprecedented opportunity to discover six of Kusama's captivating Infinity Mirror Rooms alongside a selection of her other key works, including a number of  paintings from her most recent series My Eternal Soul that have never been shown in the US. From her radical performances in the 1960's, when she staged underground polka dot "Happenings" on the streets of New York, to her latest Infinity Mirror Room, All the Eternal Love I Have for the Pumpkins, 2016, the Hirshhorn exhibition will showcase Kusama's full range of talent for the first time in Washington, DC. Don't miss this unforgettable sensory journey through the mind and legacy of one of the world's most popular artists.
Organized by the Hirshhorn, Yayoi Kusama: Infinity Mirrors will embark on the most significant North American tour of the artist's work in nearly two decades. Following its Washington, DC, debut, the show will travel to five major museums in the United States and Canada.
Hirshhorn Museum and Sculpture Garden, Washington, DC, Feb 23–May 14, 2017
Seattle Art Museum, June 30–Sept 10, 2017
The Broad, Los Angeles, Oct 21, 2017–Jan 10, 2018
Art Gallery of Ontario, Toronto, March 3–May 27, 2018
Cleveland Museum of Art, July 9–Sept 30, 2018
High Museum of Art, Nov 18, 2018–Feb 17, 2019
Yayoi Kusama is a Japanese artist and writer. Throughout her career she has worked in a wide variety of media, including painting, collage, soft sculpture, performance art, and environmental installations  most of which exhibit her thematic interest in psychedelic colors, repetition, and pattern. A precursor of the pop art,  minimalist and feminist art movements, Kusama influenced her contemporaries such as Andy Warhol, Claes Odenburg, and George Segal and exhibited works alongside the likes of them.
This exhibit is going to blow up your Instagram feed — and rewrite art history
When Yayoi Kusama moved to New York in 1958 with a suitcase of watercolor paintings, the 29-year-old Japanese artist went directly to the top of the Empire State Building. "Seeing this big city, I promised myself that one day I would conquer New York and make my name in the world," she said in a 2012 interview.
Amazingly, she succeeded. For more than a decade, Kusama's groundbreaking paintings, sculptures and installations won rave reviews and were shown alongside the works of big-name artists like Andy Warhol and Claes Oldenburg. And yet she never quite won the respect accorded to her male counterparts, who were inspired by her work and sometimes even copied her ideas. Stressed out and suffering from hallucinations, Kusama returned to Japan in 1973 and voluntarily checked herself into a mental institution, where she still resides. But Kusama, now 87, still puts in 8 hour days at her Tokyo studio
Yayoi Kusama is totally amazing and unique and has always intrigued and impressed me immensely.