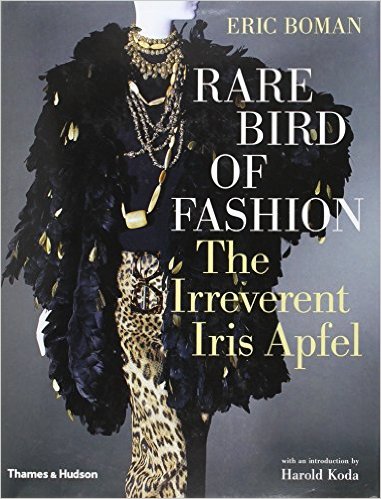 Captures the unique style of fashion maverick Iris Apfel and her exuberantly idiosyncratic personal chic.
With remarkable panache and discernment, Iris Apfel combines styles, colors, textures, and patterns without regard to period, provenance, or aesthetic conventions. She is a unique style icon.
Over ninety sumptuous color plates, photographed by Eric Boman, show off a selection of Apfel's extraordinary outfits on wittily posed mannequins, some sporting her trademark outsized spectacles. The originality of her style is typically revealed in her mixing of Dior haute couture with flea-market finds, Dolce & Gabbana lizard trousers with nineteenth-century ecclesiastical vestments, pink Lanvin worn with ropes of Navajo turquoise. Apfel's eclectic pieces might come from a Parisian couture house, an American thrift shop, or a North African souk, or they may have been made to her own design in a tiny studio.
Detailed captions describe every aspect of the outfits, including names and dates of designers, plus full information on fabrics and accessories. A selection of audacious accessories also comes under the spotlight: a giant necklace made of bear claws, a turn-of-the-century Indian horse ornament worn as a necklace, a parrot's-head brooch in colored glass and rhinestones.
The book includes an introduction by Harold Koda, director of the Costume Institute at the Metropolitan Museum of Art, and an essay by Apfel herself, describing her lifelong love affair with style and illustrated with vintage photographs from her personal collection. 169 photographs and illustrations.
Iris Apfel might be 95, but don't think for a minute that the legendary interior designer and fashion icon has resigned herself to a quiet life. In fact, Apfel shows no sign of slowing down any time soon, thanks to the popular demand for her brand of unapologetically colorful and outrageous style.
The nonagenerian rose to fame in her eighties, calling herself the "world's oldest living teenager," thanks to her wild way of dressing and a feisty, no-nonsense attitude. Apfel's trademark look (enormous round eyeglasses, clashing prints, bright colors, and a myriad of accessories) has made her a bona fide streetstyle star. It's also landed her a retrospective at the Metropolitan Museum of Art in 2005, an Albert Maysles documentary titled Iris, and countless collaborations, including a personalized Emoji line and some seriously chic wearable tech.
The style idol, however, takes her fame in stride, staying grounded by the same principle that guides her aesthetic: she does what she pleases, irregardless of convention or what others think. In celebration of her latest collaboration, a line of zany footwear for Happy Socks, Apfel recently sat down with TIME to discuss her advice for staying vital, creativity, and why she doesn't believe in rules.
Nonagenarian Iris Apfel is one of fashion's most instantaneously recognisable tastemakers. She has been the subject of several museum exhibitions, a coffee table book and even an advertising campaign for MAC cosmetics.
Often colourful, always interesting, the bespectacled New Yorker's popularity was once a rare exception to fashion's love of youth. However, things are changing, and that is in no small part due to the wit, taste and intellect of Apfel, who has described herself as "the world's oldest living teenager."
In 2005, the Metropolitan Museum of Art in New York City premiered an exhibition about Apfel, titled Rara Avis (Rare Bird): The Irreverent Iris Apfel. Carla Fendi, Giorgio Armani and Karl Lagerfeld were counted among the numerous attendees. Apfel has graced the pages of Vogue Italia (photographed by Bruce Weber ), and, at 91 years old, was the oldest cover star ever to grace Dazed & Confused.
Apfel studied art history at New York University and attended art school at the University of Wisconsin. As a young woman, Apfel worked for Women's Wear Dailyand for the interior designer Elinor Johnson. She has also acted as an assistant to illustrator Robert Goodman.
In 1948, she married Carl Apfel.  From 1950-1992 the Apefel's launched the textile firm Old World Weavers and ran it until they retired in 1992. Apfel once described her textile designs as "classic but over the top" to the London Evening Standard.
Apfel has taken part in several design projects, including many design restoration projects including work on the White House for nine presidents: Truman, Eisenhower, Nixon, Kennedy, Johnson, Ford, Carter, Reagan, and Clinton. Two years after Iris Apfel was married her and her husband launched the textile firm Old World Weavers.
She's into clothing and cars
Iris Apfel is the unlikely but unquestionably perfect new face of not one but two brands right now: Australian fashion label Blue Illusion and the new DS 3 car in the U.K. and France.
Why is a 95-year-old style icon suddenly such a hot property? Because Iris has more than style; she has a story. A story of standing out and standing up for whatever the heck she wants. She doesn't give a crap about your fashion rules. As one of the first women to wear jeans, and an interior designer at the White House for nine presidents, she went from New York style icon to worldwide fame after a 2005 exhibit of her accessories at The Met. Now, the Museum of Lifestyle and Fashion History is designing a whole building to house a dedicated gallery of her collection.
See how she shines as the face of Blue Illusions' AW16 campaign, titled "Ageless." Apfel is wearing her own accessories in the photos, and regales us with sage advice in the online videos. "You can have the most beautiful clothes in the world, but if you have no style—it's just stuff!" she exclaims before regaling us in the next video with the story of how she started the trend of women wearing "splendiferous" jeans.