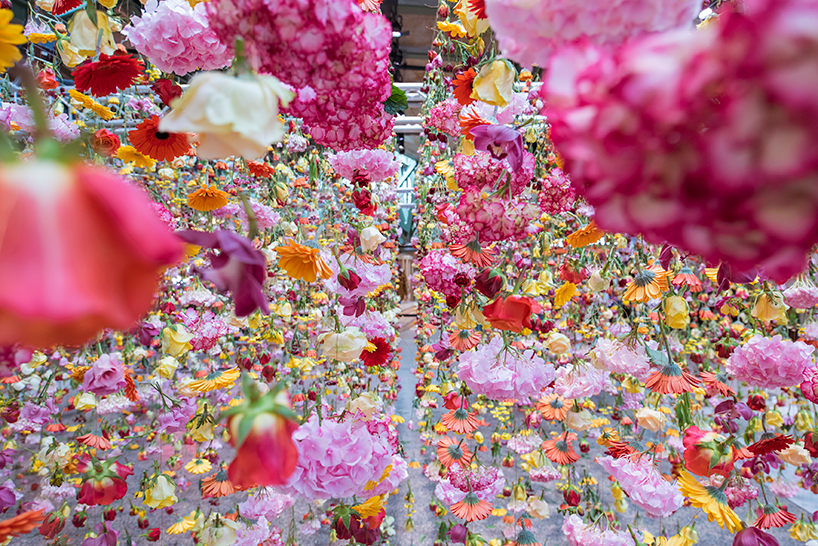 Rebecca Louise Law Floral Artist
Rebecca Louise Law is an Installation Artist based in East London, specialising in artworks made with natural materials, namely flora. The physicality and sensuality of her site specific work plays with the relationship between man and nature. Law is passionate about natural change and preservation, allowing her work to evolve as nature takes its course and offering an alternative concept of beauty.
Notable commissions include 'The Flower Garden Display'd', (The Garden Museum, London), 'The Grecian Garden' (Onassis Cultural Centre, Athens), 'Outside In' (Times Square, New York) and 'The Beauty of Decay' (Chandran Gallery, San Francisco). Law's work has also been exhibited by Bo. Lee Gallery, Broadway Studio & Gallery and at sites such as the Royal Academy and the Victoria & Albert Museum.
Rebecca Louise Law has become renowned for her cut flower installations
Death is a part of life: an uncomfortable aphorism if ever there was one.
However British artist Rebecca Louise Law has no qualms staring death in the face — in fact, she makes it central to her work.
Known for vast installations of hanging cut flowers, Law has found admirers from gallery curators to fashion houses drawn to her decaying compositions.
She's hung her work at the 
Royal Academy
 in London and turned the Chelsea Flower show on its head with an 
upside down meadow
. From Hermès boutiques to churches, there are few spaces Law's green fingers cannot reach.
Rebecca Louise Law turns bunches of flowers into blossoming works of art
Photo: Nicola Tree
As an art student at England's Newcastle University, 
Rebecca Louise Law
 wanted her nature-inspired oil paintings to invite viewers into a captivating setting, but didn't think a flat canvas was up to the task. "I needed new materials to create an immersive experience," says Law, 34. So she tapped into her roots for inspiration—"My dad is a gardener and grows thousands of flowers. It was crazy for me not to use them!" With help from her green-thumbed pop, she began hauling carloads of bouquets to her studio and sculpting 3-D installations that could spring from a wall or hang from a ceiling.
In the past five years, she's designed dozens of breathtaking pieces: a whimsical rose-garden-turned-wall-hanging for an upscale restaurant, pink peony garlands and chandeliers for a Jo Malone London fragrance launch and a grand suspended curtain at La Monnaie opera house in Brussels, where Law and a team of 50 strung nearly 5,000 blue and green hydrangeas (carefully tying each one to copper wire) above the stage. The work is painstaking, and it happens fast: "When you're using fresh-cut flowers," says Law, who handles an estimated 25,000 to 30,000 every year, "they typically need to go up within 24 hours. It gets intense."
Yet Law's favorite part of her work comes after the freshness fades. "Flowers have become some throwaway thing you buy at a supermarket," she says, "but all aspects of nature, even the decaying process, have value." In fact, her ideal project is one that would never stop growing: "I'd love to do a permanent installation in a church or a lighthouse that I can always add to," Law says, "where people can watch new and old flowers change and age over years and years"—and, yes, stop and smell the roses.
Read more: http://www.oprah.com/spirit/rebecca-louise-law-floral-art#ixzz4a955BXg2