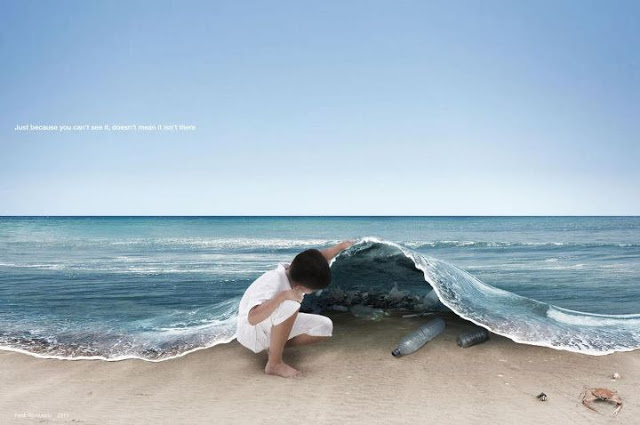 "Just because you can't see it, doesn't mean it isn't there"   
Photograph : Yasmin Grogan
Most ocean pollution begins on land. When large tracts of land are plowed, the exposed soil can erode during rainstorms. Much of this runoff flows to the sea, carrying with it agricultural fertilizers and pesticides. Eighty percent of pollution to the marine environment comes from the land.
Eighty percent of pollution to the marine environment comes from the land. One of the biggest sources is called nonpoint source pollution, which occurs as a result of runoff. Nonpoint source pollution includes many small sources, like septic tanks, cars, trucks, and boats, plus larger sources, such as farms, ranches, and forest areas. Millions of motor vehicle engines drop small amounts of oil each day onto roads and parking lots. Much of this, too, makes its way to the sea.
Some water pollution actually starts as air pollution, which settles into waterways and oceans. Dirt can be a pollutant. Top soil or silt from fields or construction sites can run off into waterways, harming fish and wildlife habitats.
Nonpoint source pollution can make river and ocean water unsafe for humans and wildlife. In some areas, this pollution is so bad that it causes beaches to be closed after rainstorms.
More than one-third of the shellfish-growing waters of the United States are adversely affected by coastal pollution.
Correcting the harmful effects of nonpoint source pollution is costly. Each year, millions of dollars are spent to restore and protect areas damaged or endangered by nonpoint source pollutants. NOAA works with the U.S. Environmental Protection Agency, Department of Agriculture, and other federal and state agencies to develop ways to control nonpoint source pollution. These agencies work together to monitor, assess, and limit nonpoint source pollution that may result naturally and by human actions.
NOAA's Coastal Zone Management Program is helping to create special nonpoint source pollution control plans for each coastal state participating in the program. When nonpoint source pollution does cause problems, NOAA scientists help track down the exact causes and find solutions.
Oil
Oil spills
 cause huge damage to the marine environment – but in fact are responsible for only around 12% of the oil entering the seas each year. According to a 
study
 by the US National Research Council, 36% comes down drains and rivers as waste and runoff from cities and industry.
Fertilizers
Fertilizer runoff from farms and lawns is a huge problem for coastal areas. The extra nutrients cause eutrophication – flourishing of algal blooms that deplete the water's dissolved oxygen and suffocate other marine life.Eutrophication has created enormous dead zones in several parts of the world, including the Gulf of Mexico and the Baltic Sea.
Plastic garbage, which decomposes very slowly, is often mistaken for food by marine animals. High concentrations of plastic material, particularly plastic bags, have been found blocking the breathing passages and stomachs of many marine species, including whales, dolphins, seals, puffins, and turtles. Plastic six-pack rings for drink bottles can also choke marine animals.This garbage can also come back to shore, where it pollutes beaches and other coastal habitats.
Sewage disposal
In many parts of the world, sewage flows untreated, or under-treated, into the ocean. For example, 80% of urban sewage discharged into the Mediterranean Sea is untreated.
This sewage can also lead to eutrophication. In addition, it can cause human disease and lead to beach closures.
Toxic chemicals
Almost every marine organism, from the tiniest plankton to whales and polar bears, is contaminated with man-made chemicals, such as pesticides and chemicals used in common consumer products.
What is Ocean Pollution?
The ocean remains one of the most expansive, mysterious and diverse places on Earth. Unfortunately, it is being threatened by pollution from people on land and from natural causes. Marine life is dying, and as a result the whole oceanic ecosystem is threatened simply by various sources of pollution. If we are to preserve ocean and its natural beauty, drastic measures have to be taken to combat this pollution and keep what we hold most dear.
Vital Signs of the Planet: Global Climate Change and Global Warming. Current news and data streams about global warming and climate change from NASA.
"The requested page "/energy/climate-change" could not be found."
That is all that remains of the White House's webpage on climate change, at least at the official White House page. The Obama team moved Information about climate change previously hosted on the White House site to www.obamawhitehouse.gov.
The White House website was updated immediately after Donald Trump assumed the nation's highest office. The president has long said he doubts whether global climate change is real, and there now appears to be no reference to it on whitehouse.gov.
Under former President Barack Obama, the website previously hosted sections that laid out plans for combating climate change and steps the Obama administration had already taken.