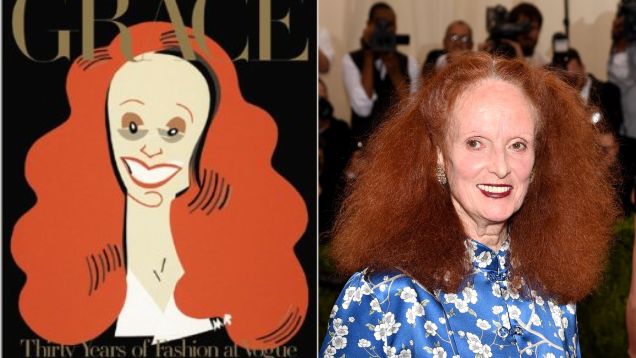 Grace Coddington – Grace: Thirty Years of Fashion at Vogue
Together, they'll serve as a retrospective of her work to date at 'Vogue' UK and American 'Vogue.'
The woman Anna Wintour once described as "one of the great unsung heroines of our business" is about to get some more, um, "song." Vogue's longtime creative director and legendary stylist, Grace Coddington, plans to release two books over the next couple of years.
The first is a reprint of her 2002 monograph, "Grace: Thirty Years of Fashion at Vogue," which features photographs spanning 30 years at Vogue UK and American Vogue, as well anecdotes about working with everyone from Irving Penn to Naomi Campbell to Manolo Blahnik, according to Phaidon's fall 2015 catalog. It's set to be released on Sept. 14.
The second is a new book covering all of her work since 2002, which will released in the fall of 2016, according to a publicist at Phaidon.
It's true! We're publishing the BIGGEST book in fashion – think of it as Phaidon's September issue
The news is out there – we're publishing not one but two books with Vogue's legendary and longstanding Creative Director, Grace Coddington. The first, GRACE  may be familiar to some Coddington fans. It's an update of the book she published with Karl Lagerfeld a few years back. The new Phaidon version though now features a letter, illustrated and signed by Coddington.
Coddington is, of course, a long beloved and inspirational figure within the fashion industry. Her creative process became known to a wider public with the release of RJ Cutler's acclaimed 2009 documentary, The September Issue which focused on events leading up to the biggest issue in the magazine's yearly cycle. She's credited with transforming static studio portraiture and location shoots into captivating narratives. "I like to bring fashion to life," she says, "so in my head I write a script."
When Edition 7L, Karl Lagerfeld's copublishing arm with Steidl, unveiled Grace: Thirty Years of Fashion at Vogue in 2002, the fashionable world went wild. With a limited print run, bookshop shelves around the world were denuded at lightning speed of this celebration of Vogue's revered—and indefatigable—Creative Director's epic fashion essays, which included unforgettable collaborations with photographers including Bruce Weber, Helmut Newton, Ellen von Unwerth, and Arthur Elgort. Today, copies available online start at $1,750 and rise to a giddying $10,000.
"I thought that was a little overpriced," says Coddington, laughing. And so she persuaded Phaidon to reprint the book exactly as it appeared back in the day (and for the less-swoon-inducing sum of $150)