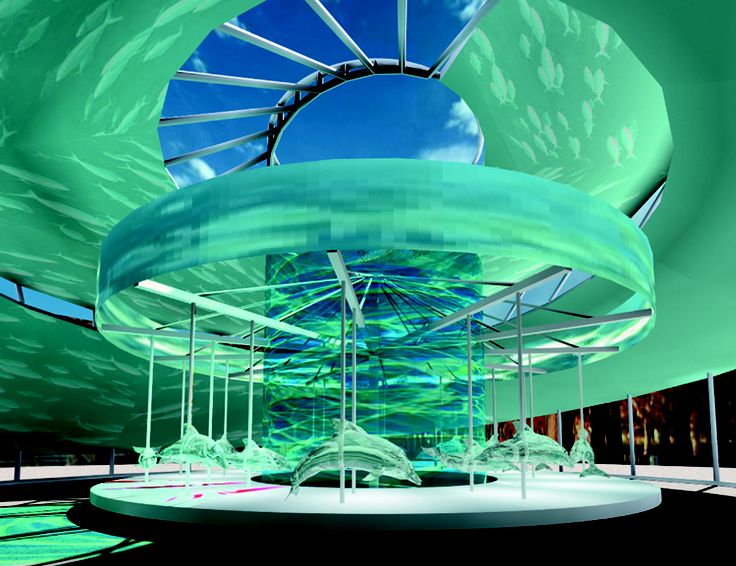 Found on thebattery.org
COME with me to the Battery, to the tip of Manhattan, where the sea meets the city, where the sea once was, where the sea may be again someday.
We are going to ride through an underwater garden, inside giant fish that shimmer with electric bioluminescence. They dart and pause, skim and school within a nautilus shell of stainless steel and glass, set in the Battery Woodland, 200 yards from Castle Clinton, which served as the New York Aquarium until 1941.
This is the $16 million SeaGlass carousel, developed by the Battery Conservancy. It is set to open as of August 2015. Young and old will be charged $5 each for a three-and-a-half-minute ride that might more accurately be called an immersion.
After ten years and $16 million, the dazzling new SeaGlass Carousel opened for a media preview today, ahead of its official first day tomorrow, in the Battery. Featuring 30 different sea creatures that glow, rotate and rise up and down, the new attraction sits on the site of the original New York Aquarium. The Battery Conservancy president Warrie Price called it a "completely unique" experience that's "a major step forward in plans to revitalize The Battery."
Stage designer George Tsypin was the mastermind behind creating the carousel's fish and while he's had experience designing for the Opening Ceremony of the 2014 Sochi Olympics and Broadway (The Little Mermaid and Spiderman: Turn Off The Dark), this was a challenge. Tsypin pointed out, "You can't ride a shark like a horse," and eventually settled on creating capsules that allowed visitors to "become the fish"—sort of like a submarine with "portholes you can observe through."
SeaGlass Carousel – Financial District
The Battery, enter at State Street and Peter Minuit Plaza
Open daily except in January and February. Hours vary.
More than a decade and $16 million in the making, this custom-designed ride opened in August 2015 as part of the Battery's ongoing overhaul. Its sea theme is a nod to the site's history as the original location of the New York Aquarium. No horses going round and round here; instead, riders step into 30 tall (some up to 13 feet!), iridescent fish that seem to swim inside a giant nautilus shell thanks to a quartet of rotating turntables. Glowing lights, soothing classical music and aquatic sound effects complete the virtual underwater experience. Check out our full review, which includes eye-popping video of the ride.