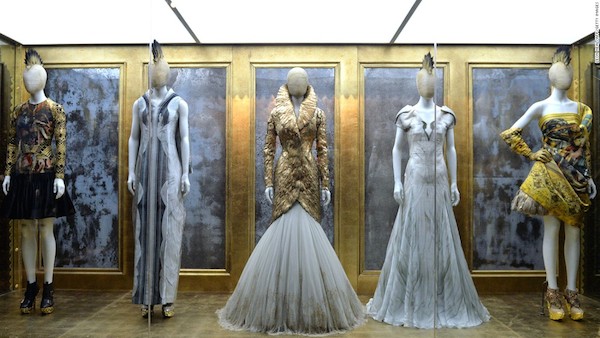 "Savage Beauty" drew record numbers in both the US and the UK 
                          Photo: via cnn.com
Forget fashion shops: how designers embraced art exhibitions
However, in terms of visitor figures and column inches it appears that when it comes to the blockbuster exhibition, fashion seems to capture the imagination of the public significantly more than art. But why? After all, many big-name designers contend that fashion is not art.
The Costume Institute's collection of more than thirty-five thousand costumes and accessories represents five continents and seven centuries of fashionable dress, regional costumes, and accessories for men, women, and children, from the fifteenth century to the present.
With more and more artist collaborations and designer retrospectives, the two worlds are closer than ever before.
While the mingling of the art and fashion worlds is not a modern concept, the visibility of fashion and art crossover seems to be at an all high. The spectacle and sensation created by collaboration among creative forces inspires fashion houses to seek out contemporary artists for runway shows, capsule collections, or as commissioned filmmakers.
"Art and fashion are increasingly intertwined, whether it is with artists working with designers on collections, or artists making fashion films for designers," Small says. "I think it is emblematic of a great convergence and in some ways leveling of popular visual culture. Certain contemporary artists and certain contemporary fashion designers have found resonance with each other, and the glamorati in the worlds of film, art, and fashion all feed off of one another and share the same spotlight. Schiaparelli's collaborations with Dali are classics now, so I'm sure at least a few of the art and fashion collaborations we're seeing today will still be interesting fifty years from now."