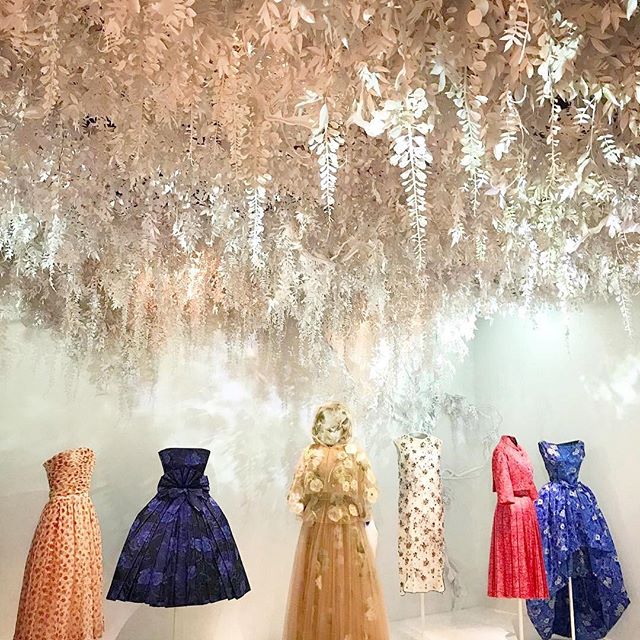 from 5 July 2017 to 7 January 2018
The Musée des Arts Décoratifs is celebrating the 70th anniversary of the creation of the House of Dior. This lavish and comprehensive exhibition invites visitors on a voyage of discovery through the universe of the House of Dior's founder and the illustrious couturiers who succeeded him: Yves Saint Laurent, Marc Bohan, Gianfranco Ferré, John Galliano, Raf Simons and, most recently, Maria Grazia Chiuri.
Major Paris exhibition celebrates 70 years of Dior fashion
The golden age of haute couture may be decades past, but – thanks to the success of shows such as Alexander McQueen: Savage Beauty – we are now living in the golden age of the blockbuster fashion exhibition. Even in that context, it is unusual to see a show of such ambition as the 32,000 sq ft homage to France's best-known couturier – Christian Dior: Designer of Dreams – which opens at the Musée des Arts Décoratifs in Paris on Wednesday.
The exhibition marks 70 years of the house of Dior and begins simply with a classic gown from 1947. Wasp-waisted with a full, pleated skirt, in so-called "satan red", it stands out like a traffic light against the gallery's black lacquered walls. This is Dior's "New Look" – the silhouette that brought the designer instant fame and ushered in a new, post-war ideal of hourglass femininity.
"After the New Look the house of Dior became visited by tourists like a monument," says one of the show's curators, Florence Müller. "It also represented the rebuilding of Paris as a place to see fashion after the war – Dior was an ambassador for that." Certainly, there is a sense of deification in the opening rooms, where a long, dark corridor is dramatically inlaid with spotlit perspex boxes containing mementoes from the designer's early life – a tiny pack of cards; his "lucky" gold star – like the relics of a secular saint.
The rest of the show is thematic, intermingling Christian Dior's creations with the classical busts, Renaissance paintings and surrealist sculptures that inspired them, and with designs by the creative directors who followed after his death in 1957: Yves Saint Laurent, Marc Bohan, Gianfranco Ferré, John Galliano, Raf Simons and the current, first female, holder of the post, Maria Grazia Chiuri.
The show's use of colour is staggering: one long "Colourama" display features shoes, bags and perfume bottles arranged chromatically – an orange-hued backless dress by Raf Simons beside a clementine-coloured mohair dress-coat by John Galliano, running on and on in tiny increments from mustard to zingy yellow to cream to dove grey to teal to ballet slipper pink to cream to baby blue to lilac to rich purple and burgundy. Later, in a muted, wood-panelled white and grey neoclassical drawing room, there are frothy corseted dresses in Versailles hues: pale pinks, soft blues.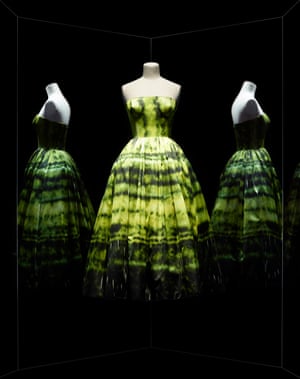 Another room examines the inspiration Dior drew from gardens – a haute couture minidress covered in little green sprigs introduces an unlikely AstroTurf-meets-cocktail hour moment – while a Monet iris painting hangs from the wall and, overhead, the ceiling is blanketed in thousands of tendrils and vines made from delicate white paper.
PARIS — On Monday afternoon Christian Dior held its couture show in the historic gardens of Les Invalides, the gold-domed military monument where Napoleon is entombed, which had been transformed for the event into four quadrants of unexplored territory.
There were skeletal wooden crocodiles, giant tortoises and giraffes as well as palm fronds, bamboo and red rock desert. It was all arrayed under the canopy of an artful suspended map of the mind — the better to symbolize the way French fashion, and Dior, originally conquered the world.
Later that day, the Musée des Arts Décoratifs, an arm of the Louvre, threw open its doors to "Christian Dior: Couturier du Rêve," the largest-ever single brand exhibition and an extraordinary retrospective of 70 years of Dior: the work of seven designers, more than 300 couture dresses and almost 32,300 square feet of space. (The French first lady, Brigitte Macron, also attended.)
And on Tuesday, under the domed glass ceiling of the Grand Palais where Karl Lagerfeld had the Eiffel Tower recreated for his Chanel show, guests including Kristen Stewart and Katy Perry were seated on the green folding chairs found throughout the gardens of Paris. They watched as Mayor Anne Hidalgo bestowed the Grand Vermeil de la Ville de Paris, a medal that is the city's highest honor, on Mr. Lagerfeld for his services to the French capital.