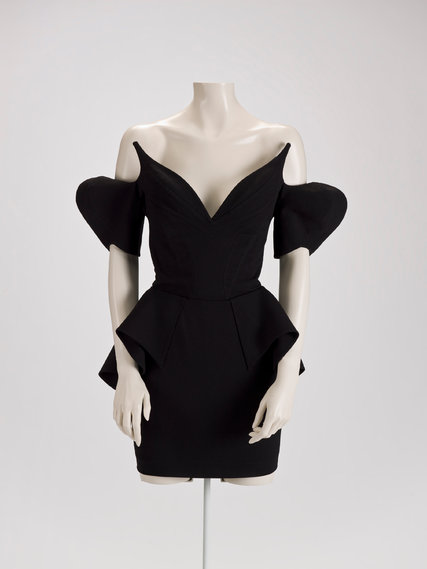 October 1, 2017–January 28, 2018
The Museum of Modern Art
Items: Is Fashion Modern? explores the present, past—and sometimes the future—of 111 items of clothing and accessories that have had a strong impact on the world in the 20th and 21st centuries—and continue to hold currency today. Among them are pieces as well-known and transformative as the Levi's 501s, the Breton shirt, and the Little Black Dress, and as ancient and culturally charged as the sari, the pearl necklace, the kippah, and the keffiyeh. Items will also invite some designers, engineers, and manufacturers to respond to some of these indispensable items with pioneering materials, approaches, and techniques—extending this conversation into the near and distant futures, and connecting the history of these garments with their present recombination and use. Driven first and foremost by objects, not designers, the exhibition considers the many relationships between fashion and functionality, culture, aesthetics, politics, labor, identity, economy, and technology.
What to Expect From MoMA's Second-Ever Fashion Exhibition
On October 1, the Museum of Modern Art in New York will present its second-ever exhibition about clothing. Called "Items: Is Fashion Modern?", it is the descendant of 1944's "Are Clothes Modern?" exhibit and will categorize new and archival fashion items into 111 types, like the leather jacket, the classic American jean, and the little black dress. Those types are then grouped into seven larger categories: the changing body and silhouette; the quest for new technologies; ideas of rebellion, emancipation, and modesty; messaging through clothing; athleticism and fashion; everyday uniforms; and power.
"A powerful form of creative and personal expression that can be approached from multiple angles of study, fashion is unquestionably also a form of design, with its pitch struck in negotiations between form and function, means and goals, automated technologies and craftsmanship, standardization and customization, universality and self-expression," said Paola Antonelli, a senior curator in the Department of Architecture and Design, in a release, perhaps justifying why the museum is just now turning an eye to the discipline after years of broadly avoiding fashion as a theme. That's not to say that the museum has totally excluded fashion altogether over the past 70 or so years—a number of Alexander McQueen pieces were on display during its 2015 Björk retrospective, while Eckhaus Latta had works in a show at MoMA PS1—but it has left examination of fashion's place in the world largely to its neighbor uptown, the Costume Institute at the Metropolitan Museum of Art.
What makes MoMA's approach to fashion design unique is that rather than delve into the specifics of a single idea or designer, Antonelli and her curators are looking at the larger role fashion plays in our lives. If that sounds incredibly broad, well, it is—there are more than 350 pieces in the upcoming exhibit. But not every LBD is created equal, and just 10 have made the MoMA cut: Chanel, Christian Dior, Givenchy, Thierry Mugler, Rick Owens, Arnold Scaasi, Versace, Wolford, Nervous System, and a '40s utility dress.
Most famous of the quips attributed to the Austrian-born American designer Rudi Gernreich — now best remembered for his unisex creations and the topless bathing suit — was the dictum that "Fashion will go out of fashion." As early as the 1960s, Gernreich foresaw a gradual winding down of the engine that had long propelled it: a pursuit of novelty and "modernity."
"Items: Is Fashion Modern?," the first show the Museum of Modern Art has devoted to the subject since Bernard Rudofsky's seminal exhibition "Are Clothes Modern?" in 1944, takes up the multiplicity of questions provoked by a design field that, despite playing an integral part in all of our lives, continues to defy easy comprehension.
Never mind whether fashion is "modern." What precisely is fashion in the first place? Is it just garments? Or is it a complex system, or an art form, or a cluster of random typologies? Those, among other hefty issues, will be taken up by the ambitious (and welcome) MoMA show, curated by Paola Antonelli, senior curator of the department of architecture and design at the museum — and a seasoned design world gadfly.