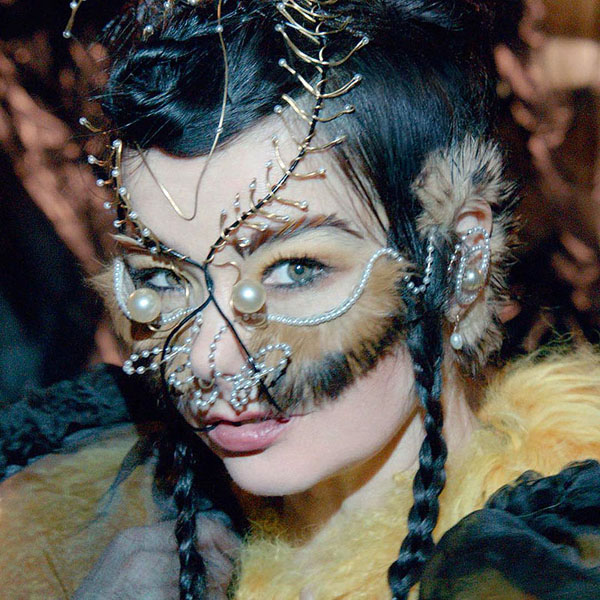 James Merry Masks
James Merry is a hand embroidery artist, originally from Gloucestershire in the UK, now based in Iceland where he has been living and working with Björk since 2009. He works from a small cabin studio on a lake fifteen minutes outside of Reykjavík, working by hand in a variety of mediums. James is a self-taught embroiderer, having originally studied Classical Greek at Oxford University.
Like all in Björk's creative coterie, mask-maker James Merry (what a name!) works with the hand of a craftsman and the soul of an artist. For the British native — who splits his time between bustling New York and a remote cabin in Iceland, surrounded by mossy outcroppings and fields of lavender — it's all about quiet contemplation and profound transformation.
The latest fruit of their seven-year collaboration, which began in the early stages of Björk's Biophilia album, is among the most memorable: an ethereal rainbow-colored feather headpiece that Merry calls "ghost orchid." She resembled an exotic butterfly, the kind that flits about her barren island paradise. And therein lies the common ground between the two: a respect for one's roots and a passion for personal expression.
To celebrate the release of the Icelandic visionary's ninth studio album, we catch up with artist James Merry on creating her transformative head and facepieces
Eight and a half years ago, embroidery artist James Merry was introduced to Björk by a mutual friend who knew she was looking for an assistant and researcher to help her with her forthcoming project, Biophilia. At the time, Merry was an Oxford graduate in Ancient Greek and sent the Icelandic visionary – whose work he'd always admired – an email. What resulted, was an enthusiastic exchange of shared references and eventually an invitation from Björk to meet her in New York. "I just got on a plane and went and had breakfast with her at her house," Merry laughs down the phone, the day before the launch of Björk's ninth studio album Utopia. "I remember we spent the day showing each other YouTube videos, and chatting and eating; it was really fun but very surreal. I flew back to England and about a week later her manager called me and said, 'She thought it went great. Would you like to work with her?' and I said yes. Another week later I packed up all my stuff in London and moved to New York."
Merry has been assisting Björk ever since, all the while garnering acclaim for his own artistic practice, both through his successful solo career, which has seen him produce a book of plant illustrations merging with human forms (2012's Anatomies) and embroider miniature invasions of blossoming flowers onto streetwear logos, and in collaboration with the musician. He is the man behind all of Björk's incredible embroidered costume creations, a key part of her aesthetic ever since 2015's Vulnicura, with whom he made the much-admired lace and pearl moth mask that she wore throughout her tour. Helping the chameleonic star metamorphosise into her various guises comes naturally to Merry. "I'm fixated on the idea of something from one world transforming into something from another world – that moment when it's not quite clear which world it's in," he says.
​At the Academy Awards in 2001, as she soared past the paparazzi in a swan-shaped dress by the indie designer Marjan Pejoski, Björk literally laid a fashion egg on the red carpet. Her outfit was widely panned in the media, but Björk had the last laugh, becoming one of the most enduring fashion icons of our time. In W's November 2017 issue, the Icelandic superstar lives up to her reputation, in a daring, fantastical fashion story by the photographer Tim Walker. See all of the images, which were taken in Iceland, here. Plus, read Björk's interview with herself.