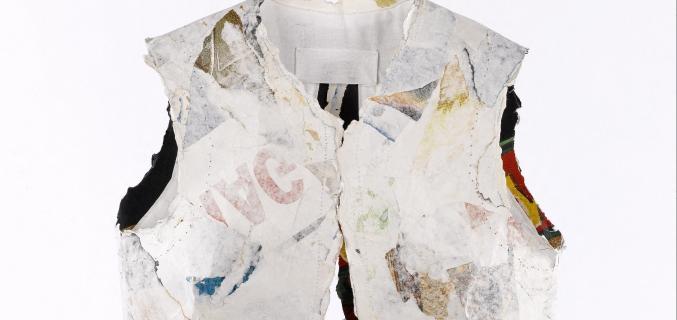 Martin Margiela Palais Galliera Retrospective
MARGIELA / GALLIERA, 1989-2009
An appreciation for the enigmatic designer's works.
From March 3rd to July 15th, 2018
This exhibition, the first retrospective in Paris devoted to Belgian fashion designer Martin Margiela, traces the career, from spring-summer 1989 to spring-summer 2009, of a designer who not only questioned the structure of garments but also challenged the structure of the fashion system.
Martin Margiela (b. Louvain, 1957) graduated from the fashion department of the Royal Academy of Fine Arts, Antwerp, in 1980. After a stint as Jean Paul Gaultier's assistant between 1984 and 1987, he was associated with the Antwerp school and became the only Belgian designer of his generation to found his own fashion house in Paris.
Margiela's conceptual approach challenged the fashion aesthetics of his time. His way of constructing a garment involved deconstructing it, exposing the inside, the lining, and the unfinished parts, and revealing the different stages of manufacture: pleats, shoulder pads, patterns, bastings and all.
He pushed the scale of a garment to extremes, enlarging the proportions to 200% in his "Oversize Collection", for example, or by adapting dolls' clothes to the life-size human form in the "Barbie Collection". He printed trompe-l'oeil photos of dresses, sweaters and coats and established a new form of "cloven" shoe inspired by traditional Japanese tabis, i.e. with the big toe separated from the others.
Margiela questioned the obsolescence of clothes with his «Artisanal» collection, created from vintage garments and recovered materials transformed into unique hand-sewn pieces. And also with his "Replica" series of vintage clothes garnered from around the world and reproduced identically.
Margiela remains the creator without a face, the man who does not do interviews, and whose clothes came with a plain white label bereft of any brand-name. This man who promotes anonymity is famous, not only for his use of white, a colour that he espoused in a multitude of shades, but also for holding his défilés in unusual venues: in car-parks, warehouses, a metro station, or on waste ground.
Using more than 130 silhouettes, videos of défilés, House archives and special installations, the Margiela / Galliera exhibition offers us an unprecedented look at one of the most influential contemporary fashion designers.
Is there nothing Martin Margiela isn't responsible for having done first? The invisible man of fashion has staged what amounts to an autobiographical takeover of the Musée Galliera in Paris, a retrospective which is set to become a place of pilgrimage for students and designers who worship the ground Margiela trod on in the 20 years between his first collection in 1989 and his last in 2009. A narrow white carpet went up the steps of the museum for the opening of the exhibition last night—an insider joke of a reminder that Margiela's first show was staged on a cheap white cloth runway, with the models leaving sticky red-paint Tabi boot-prints behind them. The next season, he cut a top from a piece of that human-hoof-printed floorcloth and stuck it together with gaffer tape: It's in the exhibition. Yes, Margiela was the first in fashion to think of recycling.
The influence of what followed throughout his career set reverberations running through fashion, which, if anything, are even louder now than they were when Margiela's presence at his house vaporized a decade ago. A generation of devotees, like me, were bereft when he went, although we never definitively knew when he left, since Martin Margiela—the man behind the blank white label with the four white cotton stitches which signaled membership to other cultists—never gave an interview.
But this clears it all up: exactly when he left and exactly how he worked. In this show, the oracle speaks at last. That's his voice in the "Anecdote" captions next to each exhibition. That's his name on the introduction: artistic director Martin Margiela.
So now, we can hear it from him and see the evidence of all the firsts he started to land on the then-indignant ancien régime fashion establishment as he pushed '80s values and aesthetics over the edge into the '90s. Alexandre Sampson, the Musée Galliera curator who worked with Margiela on editing this chronological retrospective, confirmed that, "He's been here constantly, he did the wigs and the makeup on the mannequins, everything."
Wandering through, you can compare what is happening now—this week, this season—with how Margiela first came up with it. The list is almost embarrassingly long. It was Margiela who invented the super-oversize proportions we are seeing again (Fall 2000); he was the first to repurpose ladies' vintage head scarves as clothes (Spring 1992) and the first to recycle and repurpose deadstock materials—practices which led to his Artisanal line. We didn't call it "sustainability" when Margiela Margiela cut original '50s ball gowns up the front, overdyed them, and layered them over jeans (Spring 1991), or when he chopped up old fur coats and made them into mullet wigs (Fall 1997), but that's what it was. We didn't call his Fall 1994 setting up of his Replica line "appropriation"—today's buzzword for copying the extant—but it was (the difference being that Margiela's labeling documented the exact provenance of what had been copied).
Margiela was also the first to want to question "the fashion system," foreshadowing by two decades the now much-vaunted "experiential" show format, taking audiences way out of their fashion comfort zones to see his collections manifested on a disused car park, in an abandoned metro station, or a derelict supermarket. Épater les bourgeois was definitely Martin Margiela's thing for a long stretch. It had political dimensions. The late Bill Cunningham (as we read in a caption) saw Margiela's rubble-strewn wasteland scenes as prefiguring the crumbling of Communism and the fall of the Berlin Wall. Margiela also super-annoyed the fashion trade press when he staged the very first see-now-buy-now season, putting models in the windows of boutiques around the world: a simultaneous, public shopping opportunity. There was no show, only a retail launch. Quel horreur! For this, Women's Wear Daily called him the "bad boy" of fashion.
When you're in the midst of a revolution you often can't see it. I was new to fashion in 1988, and pulled in different directions at once — by the subversiveness of Gaultier and Mugler, by the extreme magic of Yamamoto and Kawakubo, by the new uniform of Helmut Lang, by Chanel and the glamour of Paris itself. So I missed Martin Margiela's first show, held October 23, 1988, at a cafe-theatre in the Marais.
At that show, like the 20 that followed over the next ten years, Margiela introduced the ideas that would constitute his "manifesto," as a career retrospective at the Palais Galliera refers to that incredible early period. These ideas included not only his explorations into tailoring — really, deconstruction, a term he introduced into fashion — and pioneering use of reclaimed materials such as silk scarves, but also a new system of presenting fashion. He introduced a sense of underground mystery to shows, sending cryptic invitations by fax or telegram to unlikely locations like an abandoned Metro station. At the first show, the models — who were attractive but hardly looked or acted like runway mannequins — paraded through the theater and onto a white canvas-covered stage, where some of them left red marks from the paint they had intentionally stepped in backstage.
Margiela literally took us places we had never been before. I probably saw my first Margiela show in his showroom, in March 1991, but the one that sticks in my mind was at a Salvation Army store the next spring. I sat on a washing machine, and the models wore long black knits and dresses, some covered with dry-cleaning bags.
The exhibition (which does not include the women's designs Margiela did for Hermès from 1997 to 2003) is a life-affirming treat, remarkable in its insight and detail. Credit for that goes to the great Olivier Saillard, who recently resigned as director of the Palais Galliera to pursue a new venture, and to the curator, Alexandre Samson, who spent a year working out the details with Margiela, who was involved from the start. In fact, it was Margiela who styled the mannequins' wigs, who painted suntan marks on their limbs (to mimic the effect in the first collection), who put red shoe marks on the floor, and who created the "fan bedrooms" that are part of the exhibit, filling them with books and objects that were pertinent to his creative life.
Considering that Margiela was invisible to much of the fashion world throughout his career — he always refused to give interviews or be photographed — it's fascinating that he feels so present in the Galliera space.
"He was here until last night doing the makeup for the mannequins," Saillard told me on Thursday. "You can feel him in the exhibition — you can recognize everywhere the print of his hands." Saillard laughed. "I did nothing, he did everything."
Despite Margiela's policy of anonymity, he has very much kept close watch on the fashion world in recent years, says Saillard. "He's very worried about everything that's happening today. He said, 'Designers forget clothes. They are just interested in images. But they forget clothes.'" Samson and Saillard also found Margiela quite eager — obsessed, really — to explain things, even down to the exact placement of a belt on a pair of trousers.
How does all that square with a man few fashion people have ever seen or heard from? Saillard, after a moment, replied: "I'm still very curious about this attitude, which is probably modest but also you have to know you're a great talent to do that. You cannot disappear if you do not know you have a great, great talent."
On one level, the exhibit affirms what a giant influence Margiela's designs — his lean silhouette, his narrow shoulder-line with a slight peak where the sleeves are set, his use of linings and recycled things — have been on brands, from Celine to The Row to most obviously Vetements and Balenciaga, both of which are overseen by Demna Gvasalia, who worked at Margiela in the latter years.
Yet what I took away from the show — which includes 100 silhouettes, videos, and many documents — was how passionate Margiela was about clothing. That's not as stupid as it sounds. I didn't realize, for example, how important Edwardian dress was to him, especially tailoring and perhaps, as well, its use of linings and other underpinnings. A clue can be found in one of his "fan rooms," where a book on Edwardian fashion sits on a shelf.
Margiela was so fascinated by clothing, especially ordinary off-the-rack stuff, that he reproduced vintage suits and other styles for a line he called "Replica." Two such items, from Germany in the '70s and Belgium in the '40s, are on display. "They're exactly the same as the originals," Samson told me. "With the same defects, the same disproportion."
Perhaps that's why people over the years have noted that Margiela's fashion seemed to have the "memory" of other clothes — a quality also frequently ascribed to Sally Mann's photographs of places in the South. It was extraordinary to see examples from the spring 1996 collection in which minimally cut dresses in fluid or transparent fabrics were printed with negative photos of clothing, so that the image of a dress appeared to give volume to the actual dress.
For me, though, the most stirring display — certainly the most solemn — was of a masculine wool jacket. Viewed from the back, its sleeves had been slightly bent at the elbows, like a person standing elegantly with her hands in her trouser pockets, and then stitched entirely to the body of the jacket. That pose, embedded in our mind's eye, was embedded in the coat.
Margiela sold his business in 2008, which was the only time the house furnished editors with notes for a show. It was one sentence: "Twenty years, forty shows, hundreds of garments, what's left?"
Today, at a moment when the fashion industry seems to be asking itself that very question, the Galliera show seems well timed. It also puts perspective to Margiela's genius. He did many of those early shows on a thin shoestring, in contrast to the usual practice of spending a small fortune, and he and his business partner, the late Jenny Meirens, came close to bankruptcy. In other words, Saillard said, it wasn't about having a financial structure, or a good stylist, or the right editorial connections.
"It was about having ideas," he said.