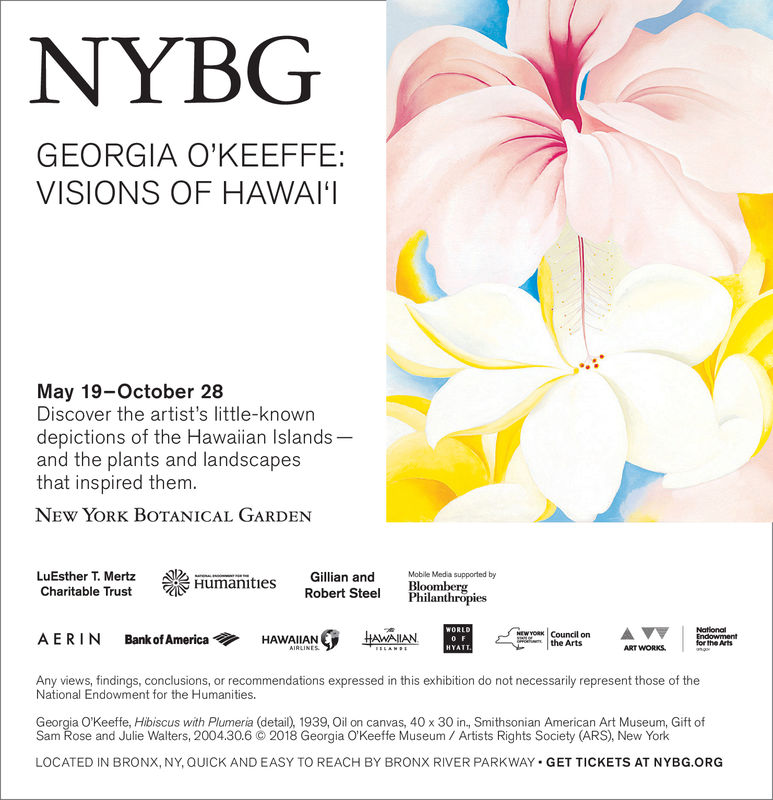 Saturday, May 19, 2018 – Sunday, October 28, 2018
Discover the artist's little-known depictions of the Hawaiian Islands—and the plants and landscapes that inspired them.
Pioneering American modernist Georgia O'Keeffe (1887–1986) conveyed a distinct sense of place with innovative depictions of her surroundings, from stark New Mexican landscapes to New York cityscapes. Yet flowers and plants were subjects that engaged O'Keeffe throughout her career. Curated by Theresa Papanikolas, Ph.D., of the Honolulu Museum of Art, this landmark exhibition offers a rare focus on 20 of O'Keeffe's depictions of Hawai'i from a nine-week sojourn in 1939 while on commission to produce images for a Hawaiian Pineapple Company promotional campaign.
A lush exhibition in the Enid A. Haupt Conservatory that explores the remarkable beauty and variety of Hawaiian flora—as well as its complex botanical and cultural history—and a stunning display in the LuEsther T. Mertz Library Art Gallery that includes 17 of O'Keeffe's Hawai'i paintings—not seen together in New York since their debut in 1940—spotlight a transformative experience in the legendary artist's life, revealing O'Keeffe's deeply felt impressions and the enduring influence of the Islands' dramatic landscapes and exotic plants.
Elsewhere in the Garden, discover NYBG's ongoing scientific efforts to study and document the plants of Hawai'i; contemporary sculpture inspired by its flowers and fruit; and an illustrated travelogue of O'Keeffe's island-hopping journey.
In 1939, the American painter Georgia O'Keeffe took a train from New York's Grand Central Terminal, traveled cross country and sailed to Hawaii, where she would spend the next nine weeks exploring Oahu, the Big Island, Maui and Kauai. She was on a paid commission for the Hawaiian Pineapple Company to produce pineapple paintings that they could use in their advertisements.
O'Keeffe was astonished by the beauty of Hawaii and traveled between the islands, sketching and painting. In 1940, these artworks were displayed in New York City at An American Place gallery, which was run by her husband, the photographer Alfred Stieglitz.
The works went on to find permanent homes in private and museum collections. Now, for the first time in 78 years, they've been reunited in New York in a glorious exhibition at the New York Botanical Garden (NYBG) called Georgia O'Keeffe: Visions of Hawai'i.