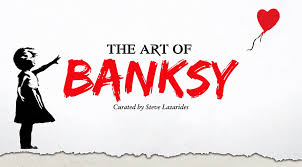 The Art of Banksy
Banksy is an anonymous England-based graffiti artist, political activist and film director. His satirical street art and subversive epigrams combine dark humour with graffiti executed in a distinctive stenciling technique.
The artist known as Banksy prefers to conceal his real identity and remain anonymous. What we think we know about him has neither been confirmed nor denied. He is prolific as an artist, author, film-maker and social commentator. Thought to have started as a freehand graffiti artist in the early 1990's with Bristol's DryBreadZ (or DBZ) Crew whose work was part of the larger Bristol underground scene.
Thousands of websites, articles, academic papers and books have sprung up on the subject of Banksy. The advantage to his anonymous nature is that interpreters of his work can speak as if they have absolute knowledge, without fear of contradiction. His privacy is protected with the collaboration of those around him, but in an interview with The Guardian in 2003, he said his parents think that he is a painter and decorator.
Banksy grants very few interviews, and those few that he does do are usually done via email or on the phone. The little information that has been gathered about him has come from the handful of books he has written. After one newspaper claimed to have uncovered Banksy's real identity, his website proclaimed, 'I am unable to comment on who may or may not be Banksy, but anyone described as being 'good at drawing' doesn't sound like Banksy to me.'
With over $35m in art, this is the largest Banksy exhibit ever assembled! The Art of Banksy, curated by Steve Lazarides, the artist's former manager, displays the largest collection of Banksy's works. Included in the collection is the famous painting known as "Girl and Balloon" and the controversial work "Laugh Now" – a witty graffiti piece that depicts a monkey with a sign hanging from his neck with the words: "Laugh now, but one day we'll be in charge."
Banksy, who refrains from revealing his identity and does not appear in public, is a painter, graffiti artist and social activist, considered one of the world's top political graffiti artists.
"This is a one of a kind exhibition – you will never again have the opportunity to see so many works in one place. Once the exhibition is over, the artwork will be returned to 40 different art collectors around the world, and the chances that they will be displayed together again in the future are extremely slim," says Steve Lazarides, curator.
"There's nothing more dangerous than someone who wants to make the world a better place."