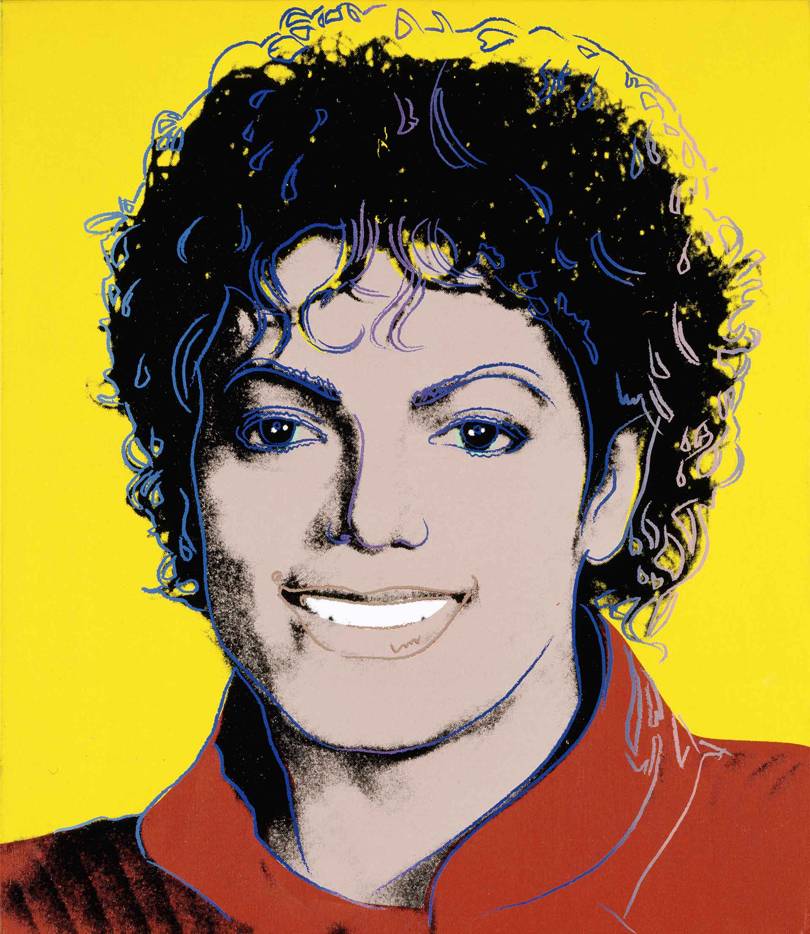 n her 1993 interview with Michael Jackson, Oprah Winfrey asked the alabaster-faced Afro-American superstar if he bleached his skin. No, he said. "And why is that so important? I'm a great fan of art. I love Michelangelo. If I had a chance to talk to him, I would want to know what inspired him to become who he is, not about who he went out with last night or why he decided to sit out in the sun for so long." It's the quote National Portrait Gallery director Nicholas Cullinan cites as he reflects on Michael Jackson: On the Wall, the exhibition he is launching on June 28, and a sentiment he echoes: "This is not about trying to dissect someone's life and character. It's about him as an artist."
From a bell-bottomed child prodigy performing in lockstep with his siblings to a gaunt recluse marred by scandal and addiction, Michael Jackson left behind no shortage of indelible images by which he can be remembered.
But instead of highlighting Jackson's image-making prowess, 
"Michael Jackson: On the Wall,"
 a new exhibition at London's National Portrait Gallery, is focusing on how the contemporary artists have observed and immortalized him over the course of his lifetime. With works that offer diverse, complex and often personal interpretations of the entertainer, the gallery explores the role he continues to play in pop culture history, even nine years after his death.
"Such an extraordinary array of artists has been drawn to Michael Jackson as a subject," said Nicholas Cullinan, the director of the National Portrait Gallery and the exhibition's curator. "This exhibition is not about his biography or memorabilia. It's about looking at him through the prism of contemporary art."
Of the 48 artists featured, only a handful, including 
Andy Warhol
, Keith Haring, 
David LaChapelle
 and Todd Gray, his former staff photographer, knew Jackson personally. Warhol, whose work with and about Jackson fills a dedicated room at the exhibition, places him firmly within the context of other mythologized cultural icons like Elizabeth Taylor and Marilyn Monroe.
In a series of three pieces completed after Jackson's death, LaChapelle depicts him as a Biblical figure, posed as Michael the Archangel atop a defeated Satan and as Jesus in a tropical pieta. Gray's mixed media work incorporates juxtaposes intimate photographs of Jackson from the 1970s and '80s with portraits of black families living ordinary lives.
48 artists offered their responses to the King of Pop, for an exhibition at the National Portrait Gallery
"I know the creator will go, but his work survives." Michael Jackson is quoting Michelangelo in an interview for Ebonymagazine in 2007; it's displayed at a new National Portrait Galleryexhibition named after the singer. "That is why to escape death, I attempt to bind my soul to my work."
In August this year, the so-called "King of Pop" would have turned 60. As we also approach 10 years since his death, the gallery has launched Michael Jackson: On the Wall, an exhibition set to tour Paris, Bonn and Finland over the next two years.
Encompassing works from 48 diverse artists from different generations, backgrounds, nationalities and ethnicities in a plethora of mediums, one way to define the exhibition – as curator and gallery director Nicholas Cullinan tells me – is to say what it is not: "This is not a biography or a memorabilia collection, a retrospective of his career through the prism of music, dance, fashion or a study of his fame. This exhibition is dedicated to his influence on contemporary art."