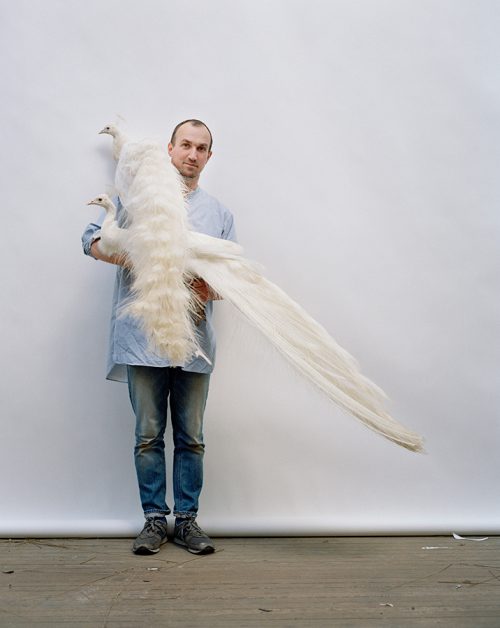 Tim Walker's photographs have entranced the readers of Vogue, month by month, for over a decade. Extravagant staging and romantic motifs characterise his unmistakable style. After concentrating on photographic stills for 15 years, Walker is now also making moving film.
Born in England in 1970, Walker's interest in photography began at the Condé Nast library in London where he worked on the Cecil Beaton archive for a year before university. After a three-year BA Honors degree in Photography at Exeter College of Art, Walker was awarded third prize as The Independent Young Photographer Of The Year.
Upon graduation in 1994, Walker worked as a freelance photographic assistant in London before moving to New York City as a full time assistant to Richard Avedon. When he returned to England, he initially concentrated on portrait and documentary work for British newspapers. At the age of 25 he shot his first fashion story for Vogue, and has photographed for the British, Italian, and American editions, as well as W Magazine and LOVE Magazine ever since.
Walker staged his first major exhibition at the Design Museum, London in 2008. This coincided with the publication of his book 'Pictures' published by teNeues.
In 2010 Walker's first short film, 'The Lost Explorer' was premiered at Locarno Film Festival in Switzerland and went on to win best short film at the Chicago United Film Festival, 2011.
2012 saw the opening of Walker's 'Story Teller' photographic exhibition at Somerset House, London. The exhibition coincided with the publication of his book, 'Story Teller' published by Thames and Hudson. In a 2013 collaboration with Lawrence Mynott and Kit Hesketh-Harvey, he also released The Granny Alphabet, a unique collection of portraiture and illustration celebrating grandmothers.
Walker received the 'Isabella Blow Award for Fashion Creator' from The British Fashion Council in 2008 as well as the Infinity Award from The International Center of Photography in 2009. In 2012 Walker received an Honorary Fellowship from the Royal Photographic Society.
The Victoria & Albert Museum and the National Portrait Gallery in London include Walker's photographs in their permanent collections.
Tim Walker tells BoF about working for Avedon, rejecting social media and why there is a "need for dreams and truth in fashion" like never before.
 Walking into Tim Walker's office in East London is a little like stepping into one of his photographs. The converted former factory block feels like a cosy, fairytale cabin. Copies of Italian Vogue's December 2015 issue — which Walker shot in its entirety — are on the oak table, while his rescue dog Stig snoozes by the stove.
Known for conjuring childlike dreamscapes and dark fantasy worlds, Walker's distinctive (and much mimicked) style can be found in American, British and Italian Vogues, as well as Love magazine. His images seamlessly blend incongruous references — "Fellini crossed with Sarah Moon crossed with Dirk Bogarde crossed with Virginia Woolf," he offers — and even in his portraits, you can sense a natural inclination for narrative. "Its just innate," he says of his style, pinpointing Albert Lamorisse's book and film 'The Red Balloon' as an early influence.
Walker has a long-standing relationship with Italian Vogue, but last January, Franca Sozzani called him out of the blue with an unexpected offer. "[She] said: 'We're changing things; we're going to sandwich every other issue that [Steven] Meisel does with a different photographer. I would like you to do the December issue," which was a huge undertaking, he admits.
Asked by Sozzani to choose a theme for the issue, Walker picked horses: "Difficult to draw but very good to photograph," he explains. A visit to Charleston House in Lewes, Sussex — the famous haunt of the Bloomsbury set, a group of literary and artistic bohemians working in London at the turn of the 20th century — sparked his imagination for the first shoot. "It was this idea of Virginia Woolf riding to see Vita Sackville-West, and it then led to the Bloomsbury set," he remembers. To handle the animals, Walker brought in trainer Tony Smart, who trained the horses used in 'Gladiator,' and for the models, he cast Jamie Bochert, Christina Carey, Anna Cleveland and Erin O'Connor, choosing them for their cinematic beauty. The whole shoot, named 'Rebel Riders,' took two days to complete.
This is an alternative edition – slightly reduced in trim size but absolutely unabridged – of the 2008 classic, now out of print. This stunning new edition offers us a privileged glimpse into Walker's artistic process. It is a comprehensive overview that features a wide array of sketches, contact sheets, Polaroids, and source materials normally hidden within the photographer's studio. The evocative images are rich with textured nuance and intriguing details. Walker gives full reign to his playful side and intersperses collages among the photographs.