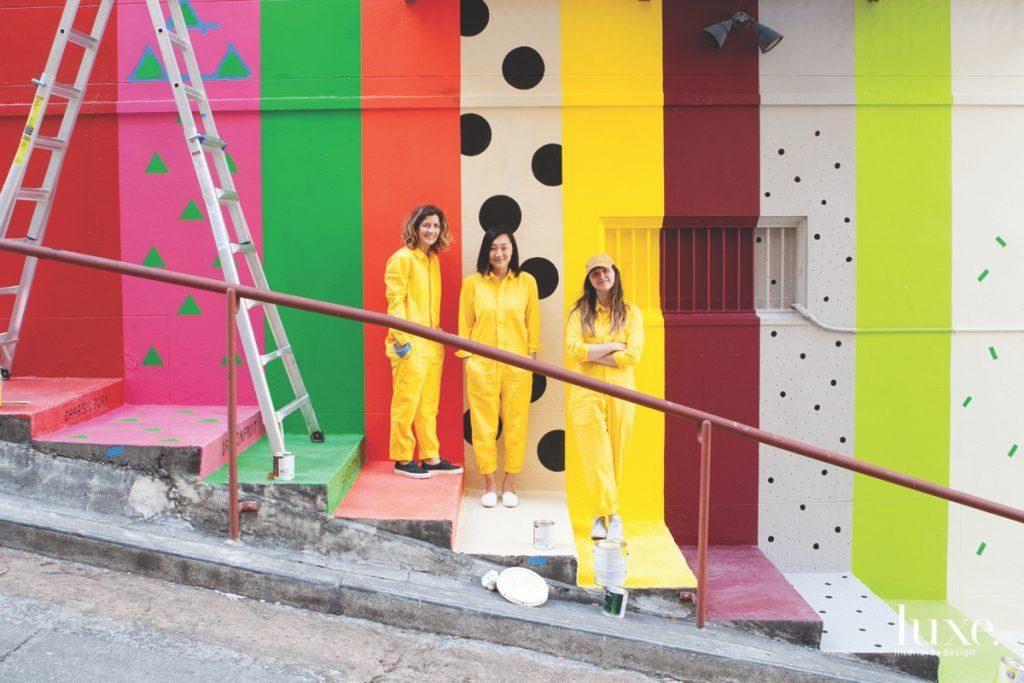 Get To Know The Artist Behind The Color Factory
Few artists feel as strongly about color as 
Leah Rosenberg
. Her entire oeuvre is built around it.
The San Francisco-based artist (shown top, left) made headlines last year for her involvement as creative director of Color Factory, the pop-up museum of brightly hued site-specific installations from artists around the world. The museum's run may have ended, but Rosenberg's cheery work is a permanent fixture all over the Bay Area–from colorful wall installations at State Bird Provisions, Pinhole Coffee and Workshop Residence to an installation in Natoma Alley that's part of Site Unseen's public art project to activate alleyways around Yerba Buena Gardens.
Your work has always been rooted in color. Why is it such a strong motivator for you?
Color, for me, is a medium. I am inspired by the stories that it evokes, the objects that hold color and the architectural features of the spaces where color will eventually be installed. Even though a final installation might seem to be all about color, it is really about everything else that led me to those colors: The sunrise, morning tea with milk, the red bike locked out front, the poppies in bloom on the hill on the way to work, a denim jacket hanging from a fence–these are all fodder for my work. I think of my collections of hues as maps or landscape paintings of places and records of time.
How would you explain people's obsession with art experiences like Color Factory?
I think San Francisco has always been a colorful city–with all the seasonal produce at farmer's markets, the Painted Ladies, the Golden Gate Bridge and the street cars. It might just be that this year we need the color more, so our eyes are more open to it. But I also do think, amid growing social tensions and devastating news, that vibrancy plays a vital role in fostering shared experiences of pleasure and joy, which can be medicine for times like these.
Color Factory collaborates with an incredibly talented roster of artists, illustrators, designers and makers, local food vendors and non-profits. Here are just a handful of the brilliant people involved in bringing you Color Factory.
Color Factory is an interactive exhibit that celebrates the discovery, serendipity and generosity of color.
Color Factory is a collaborative interactive exhibit that debuted in San Francisco in August 2017. What was intended as a month-long run unexpectedly flourished as a celebration of color and creativity that lasted for another eight sold-out months.
In August 2018, a whole new palette came to New York City in SoHo's Hudson Square neighborhood. In 20,000 square feet, we feature brand-new participatory installations of colors we've collected around the city— hues that invite curiosity, discovery and play. Some of our favorite artists, creatives, designers and makers are teaming up with us to tell their unique color stories and engage all of your senses in unexpected ways.
Instagram sensation The Color Factory has arrived in New York City, where visitors can interact with a myriad of tonal installations and take photos in a giant blue ball pit.
After an eight-month stint in San Francisco, the exhibition has taken over 20,000 square feet (1,860 square metres) of space in Soho for a yet-determined time period.
The team, headed by founder Jordan Ferney of Oh Happy Day, enlisted a host of artists to contribute works – some of which have a local twist.
"A talented roster of collaborators […] will tell their unique colour stories and engage the senses in unexpected ways," said a statement from Color Factory
Visitors arrive to the Spring Street address and enter into a foyer area, where poetry about New York's colours by Won McIntosh is written on the wall, and fabric ribbons installed by Emmanuelle Moureaux create a rainbow effect overhead.
Each guest is registered and given a card with a QR code, which they can scan along their journey to take photos at various stations, without holding their smartphones. The images are emailed almost instantly.
The experiences are encountered room by room, connected at times by stripy corridors or snack stops. One space is filled with balloons that are buffeted around by wind machines, which visitors can also take advantage of for hairography.