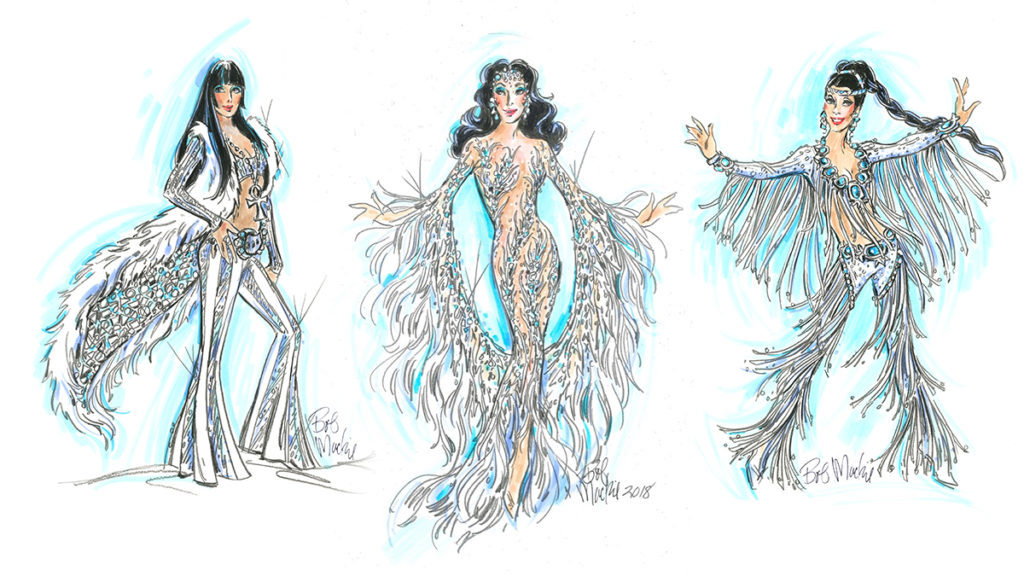 Cher's longtime collaborator Bob Mackie shines onstage in the icon's new Broadway bio-musical.
When Cher shimmied onto the set of her hit early-'70s variety show, The Sonny & Cher Comedy Hour, she and her husband shared stardom with her dramatically embellished, barely-there costumes. Cher's confidence and the program's costume designer, Bob Mackie, were to credit for her rise to fashion icon. And in the decades that followed, as Cher evolved from singer to comedian to Academy Award-winning actress to activist, Mackie has been by her side.
"Cher has never followed fashion because she doesn't want to look like everyone else," Mackie explains before our Gotham magazine dinner in his honor at midtown institution The Lambs Club. "All she said at the beginning is, 'I don't want to look like a housewife in a gown.' I said, 'I don't want you to either!'"
For The Cher Show, debuting this month on Broadway, the 79-year-old designer dreams up a fresh wardrobe of over-the-top ensembles for a trio of actresses replaying her life's illustrious chapters: the kid starting out, the glam pop star and the icon. Co-produced by Cher, the bio-musical tells the story behind the headlines to her hits.
When the subject of a Broadway show is an icon of both music and fashion, it's vital that the piece be dazzling both visually and aurally. To ensure this was the case for The Cher Show, set to open December 3 at Broadway's Neil Simon Theatre, the creators and producers went straight to the man who has helped the titular superstar — and many others — look fabulous for decades: legendary designer Bob Mackie.
When tapped to craft costumes for The Cher Show, Mackie says, "I knew it was going to be pretty big. I've known Cher and designed clothes for her for the past 50 years, so that's a lot of costumes and show-stopping outfits. We're not featuring them all, but we are trying to hit the highlights."
Mackie cites the sartorial sensations Cher has showcased at Academy Award ceremonies through the years, noting that Stephanie J. Block, who plays "Star" — one of three actresses who play the singer, actress, and force of nature, born Cherilyn Sarkisian — "gets to wear them all. It was really fun to re-create the looks these many years later."
In addition to his backstage role, Mackie is also featured as a character in the new musical. "It's actually amazing being portrayed on the stage by someone else," he says. "It never occurred to me that it would happen, but I'm very flattered they thought I was important enough to put me into the show." He notes that Michael Berresse, who plays him, is a veteran Broadway actor who "can sing and dance, and he's handsome, so that's a good thing."
Berresse, who also is a director, quips he is "old enough to remember The Sonny and Cher Show" — as well as The Carol Burnett Show, whose star has also championed Mackie from early on. So the performer grew up idolizing the designer. "He's not just a fashion brand, he's an American icon," Berresse says of Mackie. "His name was like a magical incantation to me as a child, so it's crazy that my life has led me to even knowing him personally, let alone playing him."