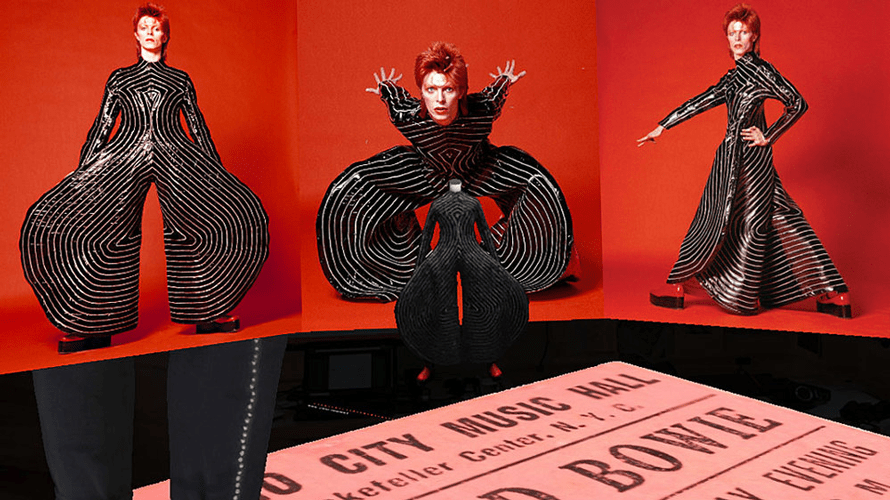 Bringing Ziggy Stardust to your living room (sort of)
David Bowie might make augmented reality a hero–at least for one day.
To celebrate Bowie's birthday, a new AR mobile app for Apple and Android devices lets fans explore hundreds of items from the late singer's life. The app, a collaboration between the David Bowie Archive and Sony Music Entertainment, is called "David Bowie Is," a title bearing the same name as the touring exhibition that's already attracted more than 2 million fans across 12 cities.
The app—available today on what would have been Bowie's 72nd birthday—allows users to place a virtual version of the entire exhibition inside of their home or office. Along with narration from Bowie friend and Oscar-winning actor Gary Oldman, fans can examine more than 50 high-resolution costumes along with "videos, handwritten lyrics and original works of art," according to David Bowie's estate's website. The app will also feature items that weren't on tour, which ended in July after making stops in London, Brooklyn and other cities around the world.
"The AR adaptation, a first of its kind, mirrors the physical exhibition through a sequence of audio-visual spaces through which the works and artifacts of Bowie's life can be explored," according to the website. "3D renderings preserve and present his costumes and treasured objects such as musical scores, storyboards, handwritten lyrics, and even diary entries all in 360-degree detail, enabling intimate 'behind the glass' access rivaling that of the visitors to the original exhibit, and enhanced by an immersive audio experience featuring Bowie's music and narration, best experienced with headphones."
Upon opening the app, users are greeted with a reminder that "David Bowie showed us that we could be who we wanted to be," before inviting them to tour through 25 rooms and 400 objects.
It also uses spacial audio, which connects where a person walks in real life to what they hear on the app—part of an emerging trend that already has manufactures like Magic Leap and Sennheiser developing various prospects for augmented reality sound. (Upon plugging in headphones, users hear enthusiastic applause—much like what Bowie himself might have heard during an encore at a show.)
The experience is meant to take place on a table top. After scanning the surface a costume appears, followed by the voice of Oldman as the viewer's room transforms on the screen to pitch black, illuminated only by the object's digital glow. After that, the costume disappears, and is replaced by a black and white photo of Bowie at six years old, along with some drawings ranging from a portrait of his mother to sketches for stage outfits. After learning about his early years, the scene transforms yet again to outer space, explaining the origin story of "Space Oddity" along with the history that influenced it.
The iOS and Android app does serve more ambitious means, too. Comprised of over 400 Bowie totems assembled across 25 "rooms," it imitates the approach of the V&A's retrospective, arguably the most impressive music exhibit of the past decade. David Bowie Is… opened at the London museum six years ago and toured internationally before closing in Brooklyn last year, drawing some 2 million visitors along the way. The installation was as notable for its intimacies as it was its reach: Organized thematically more than chronologically, David Bowie Is… paid equal care to flashy relics and casual scraps of creativity from Bowie's personal archives. The rooms were multisensory wonders, overlaid with all the other artforms he had mastered: glittering costumes and avant-garde music videos, hand-drawn tour sketches, bespoke studio equipment. David Bowie Is… could have been overwhelming, but instead it felt like a vessel of his spirit: joyously inclusive to all the possibilities of life, the more eccentric the better. As hapless visitors of New York's Björk MoMA iceberg and Velvet Underground Disneyland ride will recall, this kind of curation is its own great relief.
Like the exhibit, the app succeeds because of its breadth. (Also, the audio is perfectly timed and well mixed, another highlight of the museum experience.) The defining themes and personas of Bowie's long career are all there, from his galaxy-hopping origin story to his impossibly gracious farewell, Blackstar. Many rarities are on display: my favorite piece of the exhibit, Bowie's 1969 pantomime short film The Mask (A Mime), is available in full, as are his gorgeously eerie paintings from the Berlin years and his cut-up lyrics for "Blackout," laid out like impossibly chic magnetic fridge poetry. Zooming in on these allows for gleeful scrutinizing on a level that museum hordes won't permit, but elsewhere, the details aren't always so faithful. Specifically, the costumes.