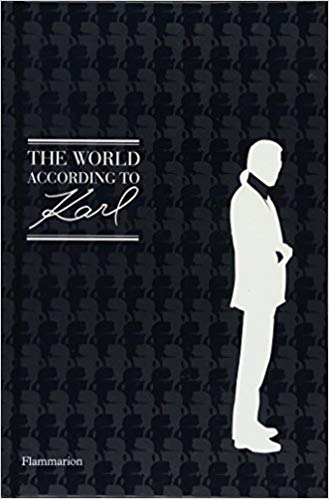 Karl Lagerfeld's quick wit and silver tongue are as notorious as Chanel's quilted handbag. This book is a cornucopia of his Karlisms: cultivated, unpredictable, provocative, sometimes shocking, but always impossible to ignore. Karl Lagerfeld is a modern master of couture. While simultaneously running Chanel, Fendi, and his own eponymous fashion house, he has consistently re-invented trends on the catwalk and in the street for half a century. His wise, surprising statements pop up like offbeat news flashes and are regularly seized upon by fashionistas, acolytes, and sages the world over. Here, in his own deadpan words, are his exacting opinions on everything-from fashion, style, women, and Chanel to fame, life, and books. This is the ultimate repertoire of wit and wisdom from fashion's sharpest pin. "I only know how to play one role: me." "Think pink. But don't wear it." "I like everything to be washable, myself included." "Change is the healthiest way to survive." "I don't recommend myself as a guest." "There is one thing I love on earth: to learn."
Karl Otto Lagerfeld is a German creative director, artist, photographer, and caricaturist living in Paris. He is known as the creative director of the French luxury fashion house Chanel, as well as creative director of the Italian fur and leather goods fashion house Fendi and his own eponymous fashion label,
Karl Lagerfeld
He is one of the industry's truly iconic designers, at the helm of two global brands that he helped revitalise, as well as his eponymous brand.
Karl Lagerfeld is one of the fashion industry's most decorated designers. He currently helms Chanel's ready-to-wear and couture lines, designs for his own label, and collaborates with Silvia Fendi to create Fendi's ready-to-wear collections. Celebrated for his renaissance-like intelligence, Lagerfeld's aesthetic is imbued with cultural and historical reference points. The designer is also an impressive linguist, versed in German, English, French and Spanish.
The son of a wealthy Hamburg businessman, Lagerfeld was born in Germany. Initially educated at St Anne's school, following his family's emigration to France Lagerfeld completed his education at Lycée Montaigne, where he focused on drawing and history.
Lagerfeld was hired as Pierre Balmain's assistant after winning the coats category in a design competition sponsored by the International Wool Secretariat in 1955. In 1958, after three years at Balmain, he moved to Jean Patou where was involved in the design of ten haute couture collections. Following a brief stint at Tiziano, a couture house based in Rome, Lagerfeld began to freelance for French fashion house Chloé in 1964. At first Lagerfeld designed a few pieces each season, but soon he was designing the entire collection. In 1965, he began a short design collaboration with Curiel, following which he began his collaboration with Fendi.
In 1982, the chairman of Chanel, Alain Wertheimer, asked Lagerfeld to design for the house. Lagerfeld told The New York Times, "Everybody said, 'Don't touch it, it's dead, it will never come back.' But by then I thought it was a challenge." The designer would go on to redefine the house's codes while paying homage to the Chanel herself, subverting her ideals with his own modern take on her most renowned designs.
Lagerfeld has made cult items of the house's bouclé tweed, pearls, dual-toned footwear and interlocking C's for new generations around the globe. In recent years, Lagerfeld conceived Chanel's métiers d'art, runway shows designed to highlight the craftsmanship of houses such as Desrues, Lessage and Barrie Knitwear, now owned under Chanel's Parraffectionumbrella.
The designer founded his own line, Karl Lagerfeld, in 1984, telling Vogue, "I've not been dreaming all my life to have my name over a shop. Now, we'll put it there because it's the right moment to do it; and I made this name, why not use it?" Lagerfeld sold the brand to the Tommy Hilfigergroup in 2005. He remains its chief creative and is directly involved in the design process.
In addition to his design talents, Lagerfeld is also a photographer and filmmaker, and regularly brings Chanel's heritage to life through film and imagery; he also shoots and creatively directs all of Chanel's advertising. Lagerfeld lives in Paris with his cat Choupette.