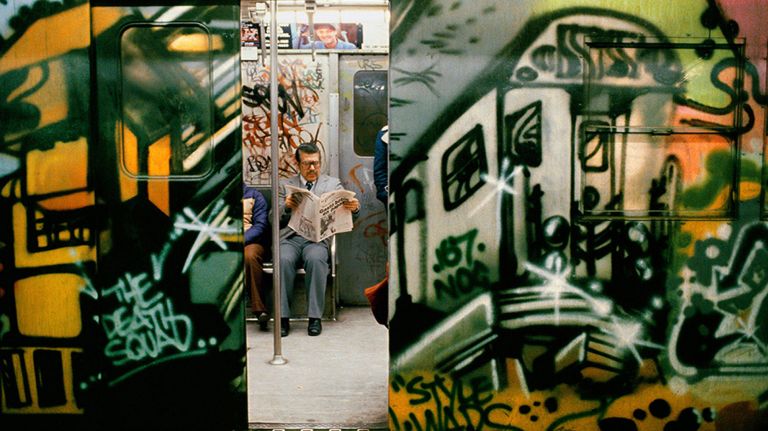 "Style Wars Car by NOC 167 with Door Open, Man Reading Newspaper 96th Street State, New York, NY, 1981" is one of the featured pieces.  Photo Credit: © Martha Cooper
BEYOND THE STREETS, the premier exhibition of graffiti, street art and beyond, heads to New York in June 2019.
June 21 through August, 2019
BEYOND THE STREETS celebrates society's most pervasive mark makers and rule breakers with unprecedented purpose and scale. The exhibition explores the collective urgency of using the street as a canvas for expression. People have long taken to the streets to share a name, phrase, image or cause with the world around them to force a public discourse. Streets act as the symbolically important public stage that is both local and universal, the bedrock for both public protest and anonymous action. While the subject matter varies and the mediums are many, it is in the public sphere where these messages find a home.
Graffiti is one of those art forms that wins by breaking all the rules — there is no one style, no single medium and certainly not one sole artist that embodies the entire genre completely. Now, in a combined effort by adidas Originals and traveling art exhibition Beyond The Streets, a new art experience is opening up in the Williamsburg neighborhood of Brooklyn that truly pays homage to over 150 artists that've cultivated graffiti into the respected platform that it's become today.
Celebrating some of the most influential artists from around the world.
Last year's BEYOND THE STREETS festival in LA hosted the launch of a special edition 44-page zine by REVOK. This time around, the festival is being brought to the opposite coast, in Brooklyn, New York, and will display the works of over 150 artists.
BEYOND THE STREETS is a premier art exhibition that celebrates some of the most influential artists from around the world. This year's space will cover over 100,000 square feet, taking place on two floors of Twenty Five Kent — a creative office building located in North Williamsburg. Dubbed "Monumental Graffiti & Street Art Exhibition," the gallery will be curated by Roger Gastman, an urban anthropologist who specializes in graffiti history. Graffiti and various forms of public self-expression will be the focus of this year's works.
Featured artists include such names as Takashi Murakami, Jean-Michel Basquiat, FUTURA, Mark Gonzales, Cleon Peterson and Guerrilla Girls, to mention a few. Taking the form of immersive installations, pieces like Shepard Fairey's Facing The Giant: 3 Decades of Dissent, large-scale figures by Murakami, an expansive collection of Beastie Boys artifacts, a room of puppets made of trash by Paul INSECT and BAST, and even an operating tattoo parlor by Bert Krak & Alexis Ross will be highlighted. Films, lectures and performances will also be included in the exhibition.
As a bonus, a curated gift shop will be present, housing several limited-edition artist collaborations that come in the form of apparel, prints, books, toys and other collectibles. One notable feature is a special adidas capsule where proceeds will go to the Harold Hunter Foundation.
Developed alongside adidas and Perrier, BEYOND THE STREETS New York will open its doors on June 21. Head over to the group's website for tickets.