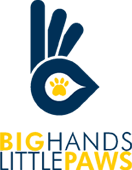 Adoption is the main mission of Big Hands Little Paws – our goal is to get all animals adopted in loving and forever homes.
Foster
Fostering is the way we get animals from their dire situation to a loving and forever home.
Foster parents are the backbone of Big Hands Little Paws—we could not exist without a base of foster parents.
Every animal that is fostered is a saved animal.
We are an all-volunteer organization and rely on their dedication and help to accomplish our goals of rescuing and rehoming cats and dogs. Here's what you need to know: