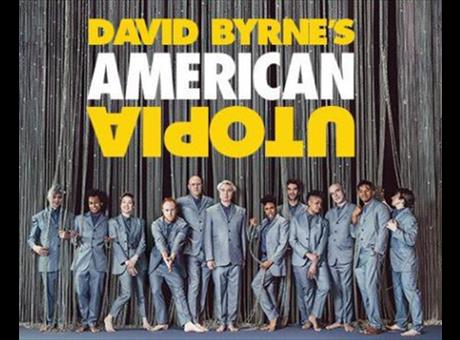 FOLLOWING A SOLD-OUT WORLD TOUR, THE ACCLAIMED THEATRICAL CONCERT COMES TO BROADWAY'S INTIMATE HUDSON THEATRE FOR 16 WEEKS ONLY.
DAVID BYRNE'S AMERICAN UTOPIA delivers "an experience unlike anything else" (Billboard) and marks a major cultural milestone in the worlds of music and theater. Innovative pop/rock icon David Byrne (Talking Heads, Here Lies Love) shares the spotlight with a diverse ensemble of 11 musical artists from around the globe.
Together with staging and choreography by Annie-B Parson, and with Alex Timbers serving as production consultant (his collaborators on Here Lies Love), David Byrne and ensemble deliver "a marvel of staging and motion" (Chicago Tribune) that's as surprisingly poignant as it is supremely funky.  Don't miss this "thought-provoking example of the power of live music" (Forbes).
David Byrne brought a touch of his wild, wild life to Broadway last week (feel free to come up with your own Talking Heads reference), playing the first three previews of his American Utopia at the Hudson Theatre, nearly selling out and scoring one of the strongest average ticket prices among the recent raft of theater district newcomers.
David Byrne's American Utopia, in which the former Talking Heads frontman fronts an ensemble of 11 musical artists from around the world, grossed $395,604, about 86% of the Hudson tenant's potential for three performances, filling all but a barely noticeable 29 seats for a 99% of capacity total.