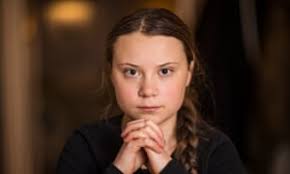 Greta Thunberg is a climate activist from Stockholm, Sweden. Greta Thunberg is on a global mission to 'make a difference. She is an environment activist.
Environmental activists Greta Thunberg and George Monbiot have helped produce a short film highlighting the need to protect, restore and use nature to tackle the climate crisis.
Living ecosystems like forests, mangroves, swamps and seabeds can pull enormous quantities of carbon from the air and store them safely, but natural climate solutions currently receive only 2% of the funding spent on cutting emissions.
The film's director, Tom Mustill of Gripping Films, said: 'We tried to make the film have the tiniest environmental impact possible. We took trains to Sweden to interview Greta, charged our hybrid car at George's house, used green energy to power the edit and recycled archive footage rather than shooting new.'
Greta Thunberg
has been the recipient of numerous honours and
awards
, including fellowship of the Royal Scottish Geographical Society, has been named as one of the 100 most influential people of 2019 by Time magazine, and has been nominated for the
Nobel Peace Prize
.
Countless species of animals are already feeling the effects of a warming globe. Fortunately, while the impacts from climate change cannot be completely eliminated, most scientists agree there is still time to prevent worst-case scenarios. Rapidly reducing our reliance on fossil fuels–as well as factory farming, deforestation, and other activities that worsen climate change–will give many animals a fighting chance at survival.
There is much that each one of us can do to lessen our own carbon footprint, from taking public transit to using energy efficient appliances. However, climate change is such a huge challenge that individual actions on their own are not enough. One of the best ways you can help save animals from climate change is to become and advocate and push for policies that reduce reliance on fossil fuel-based energy–whether at your place of work, in local government, or even by contacting your members of Congress about national climate policy. Only if enough of us speak out can we turn the tide for animals suffering in a changing climate