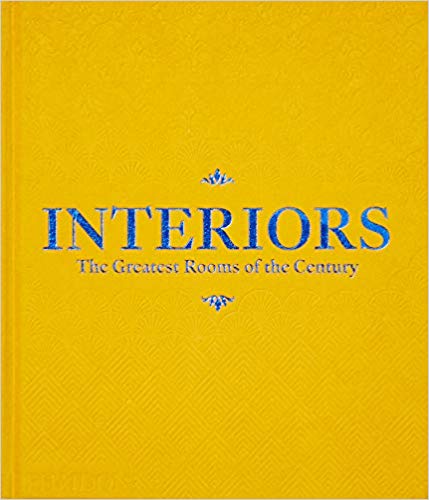 More of 400 of the world's best living spaces created by over 300 of the most influential people in interior design in one luxurious book
Oversized and available in four collectable velvet covers to decorate any space in style, Interiors: The Greatest Rooms of the Century is the ultimate global celebration of residential interior design and decorating.
With over 400 rooms organized by designer from A-Z, the book goes beyond decorators, designers, and architects to highlight exquisite interiors designed by fashion designers, artists, style icons, and film stars who have made a unique contribution to the world of interior design.
Covering work from the beginning of the twentieth century to the present day, the book features everything from extraordinary chateaux, stunning town houses, and luxury penthouses – to desert ranches, beach houses, and tiny jewel-like apartments in more than 25 countries.
This gorgeous volume includes the "greats" of interior design, such as Elsie de Wolfe, Billy Baldwin, and Colefax & Fowler, alongside contemporary stars including Anouska Hempel, Kelly Hoppen, and Karim Rashid.
Noteworthy homes include those of fashion designers Bill Blass, Pierre Cardin, Gianni Versace, and Coco Chanel, as well as artists Pablo Picasso, Georgia O'Keeffe, Cy Twombly, and Peggy Guggenheim.
Interiors: The Greatest Rooms of the Century has been created and commissioned by Phaidon editors and the most influential people in interior design today. It also includes an introduction by William Norwich, interior design and fashion editor formerly of Vogue and The New York Times and three original essays by Graeme Brooker (Head of Interior Design at the Royal College of Art), David Netto (interior designer), and Carolina Irving (Carolina Irving Textiles).
This is the essential inspirational source book for design aficionados, anyone who is interested in beautiful rooms, and for everyone who cares about the spaces in which they live. Choose from four stunning covers, Midnight Blue, Saffron Yellow, Platinum Gray or Merlot Red.
From the home of Charles and Ray Eames to Frida Kahlo's Casa Azul, these interiors span dozens of countries and a broad range of show-stopping styles.
Interiors: The Greatest Rooms of the Century is a 400-page compendium of the most spectacular spaces of the 20th century, organized not by date of completion or location, but in alphabetical order, giving the volume an encyclopedic authority—and the reader a sense of freedom and discovery. Each room is represented by a single photo "worth a thousand words" (in the words of interior design and fashion editor William Norwich in his introduction) and a short text describing the work and the designer.
The content is broad in scope and endlessly inspiring: residential interior spaces are presented from six continental regions and over 25 countries, with work not only from decorators, architects, and designers, but also spaces conceived of by fashion designers, artists, film stars, style icons, and other towering figures in residential design.
Norwich's introduction touches on the evolution of interior design in the United States: the influence of early designers such as Elsie de Wolfe and writers and tastemakers like Edith Wharton; the importance of photography, in particular for midcentury modern design; and the growth of shelter magazines.
But what exactly is great design, and what makes the spaces presented "the greatest"? This is considered in three other essays in the book by Graeme Brooker, head of the School of Fashion and Interiors at Middlesex University; David Netto, interior designer and writer; and Carolina Irving, an interiors editor. From discussions of Sir John Soane's London home of the late 18th century to the influence of Wes Anderson films, the rowdy trends of the 1980s to the question of good taste, these essays give depth and food for thought as one thumbs through the ensuing pages.
What follows in the book are a mixture of color and black-and-white photography of everything from the modernist, stark geometry of a dining room from the 1940s by Parisian designer Jacques Adnet to the lavish, Rococo flourishes of a 1980s salon in Venice by Tony Duquette and Hutton Wilkinson.