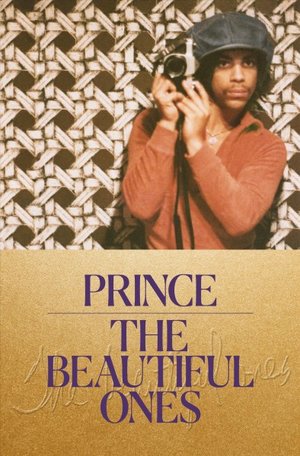 PRINCE – THE BEAUTIFUL ONES (MEMOIR)
From Prince himself comes the brilliant coming-of-age-and-into-superstardom story of one of the greatest artists of all time – featuring never-before-seen photos, original scrapbooks and lyric sheets, and the exquisite memoir he began writing before his tragic passing.
Prince was a musical genius, one of the most talented, beloved, accomplished, popular, and acclaimed musicians in pop history. But he wasn't only a musician – he was also a startlingly original visionary with an imagination deep enough to whip up whole worlds, from the sexy, gritty funk paradise of his early records to the mythical landscape of Purple Rain to the psychedelia of Paisley Park. But his greatest creative act was turning Prince Rogers Nelson, born in Minnesota, into Prince, the greatest pop star of his era.
The Beautiful Ones is the story of how Prince became Prince — a first-person account of a kid absorbing the world around him and then creating a persona, an artistic vision, and a life, before the hits and fame that would come to define him. The book is told in four parts. The first is composed of the memoir he was writing before his tragic death, pages that brings us into Prince's childhood world through his own lyrical prose. The second part takes us into Prince's early years as a musician, before his first album released, through a scrapbook of Prince's writing and photos. The third section shows us Prince's evolution through candid images that take us up to the cusp of his greatest achievement, which we see in the book's fourth section: his original handwritten treatment for Purple Rain — the final stage in Prince's self-creation, as he retells the autobiography we've seen in the first three parts as a heroic journey.
The Book of Prince
Prince had grand plans for his autobiography, but only a few months to live.
On January 29, 2016, Prince summoned me to his home, Paisley Park, to tell me about a book he wanted to write. He was looking for a collaborator. Paisley Park is in Chanhassen, Minnesota, about forty minutes southwest of Minneapolis. Prince treasured the privacy it afforded him. He once said, in an interview with Oprah Winfrey, that Minnesota is "so cold it keeps the bad people out." Sure enough, when I landed, there was an entrenched layer of snow on the ground, and hardly anyone in sight.
Prince's driver, Kim Pratt, picked me up at the airport in a black Cadillac Escalade. She was wearing a plastic diamond the size of a Ring Pop on her finger. "Sometimes you gotta femme it up," she said. She dropped me off at the Country Inn & Suites, an unremarkable chain hotel in Chanhassen that served as a de-facto substation for Paisley. I was "on call" until further notice. A member of Prince's team later told me that, over the years, Prince had paid for enough roomsthere to have bought the place four times over.
My agent had put me up for the job but hadn't refrained from telling me the obvious: at twenty-nine, I was extremely unlikely to get it. In my hotel room, I turned the television on. I turned the television off. I had a mint tea. I felt that I was joining a long and august line of people who'd been made to wait by Prince, people who had sat in rooms in this same hotel, maybe in this very room, quietly freaking out just as I was quietly freaking out.
A few weeks earlier, Prince had hosted editors from three publishing houses at Paisley, and declared his intention to write a memoir called "The Beautiful Ones," after one of the most naked, aching songs in his catalogue. For as far back as he could remember, he told the group, he'd written music to imagine—and reimagine—himself. Being an artist was a constant evolution. Early on, he'd recognized the inherent mystery of this process. " 'Mystery' is a word for a reason," he'd said. "It has a purpose." The right book would add new layers to his mystery even as it stripped others away. He offered only one formal guideline: it had to be the biggest music book of all time.
Prince Memoir, 'The Beautiful Ones,' Brings To Life A Vision In One's Mind
I'm a longtime Prince fan. I would listen to his raunchy songs with the sound turned down low so my parents couldn't hear, because even before I understood a lot of the double entendre in his lyrics, I sensed they — and he — were naughty. And, of course, my parents confirmed.
Once while driving in the car with my mom, Erotic City started playing on the radio. She reached over, snapped the radio off and said, "That Prince is just nasty." And he was nasty. In a good way.
Prince was also perspicacious and artistically brilliant and mischievous and shrewd and all the many other superlatives that have been bestowed on him over the years.