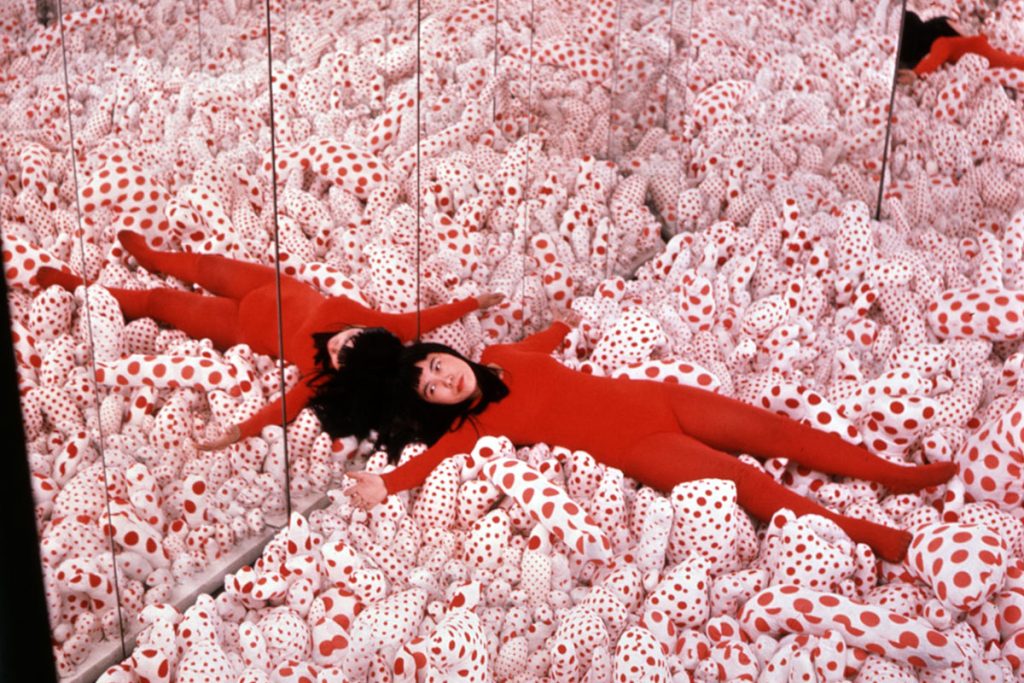 ONE WITH ETERNITY: YAYOI KUSAMA IN THE HIRSHHORN COLLECTION
                  APR 01, 2022–SPRING 2023
The Hirshhorn has been collecting the prolific work of Yayoi Kusama since 1996. Our 2017 survey of her work traveled to five North American art museums, introducing Kusama's spellbinding visions to record audiences. Next up: an exhibition of her five works in our permanent collection, including two of the artist's transcendent Infinity Mirror Rooms, sculptures, an early painting, and photographs of the artist. One with Eternity: Yayoi Kusama in the Hirshhorn Collection is a tribute to the life and practice of this visionary artist.
One with Eternity will showcase the Hirshhorn's permanent collection of works by Kusama, including two of her Infinity Mirror Rooms—her first and one of her most recent—that create a dazzling sensation of never-ending space. These transcendent rooms will be exhibited alongside an early painting; sculptures, including Pumpkin (2016) and Flowers—Overcoat (1964); and photographs of the artist. This exhibition honors Kusama's distinctive vision of self-obliteration by exploring its development across media while also underscoring the Museum's mission: to present the most exciting art and ideas of our time.
Among the additions to the Hirshhorn's permanent collection is Kusama's milestone, Infinity Mirror Room—Phalli's Field (Floor Show) (1965/2017), the first of the artist's immersive installations to transform the intense repetition of her earlier paintings and works on paper into a perceptual and participatory experience. The exhibition will also debut one of Kusama's most recent rooms to Washington, DC, audiences.