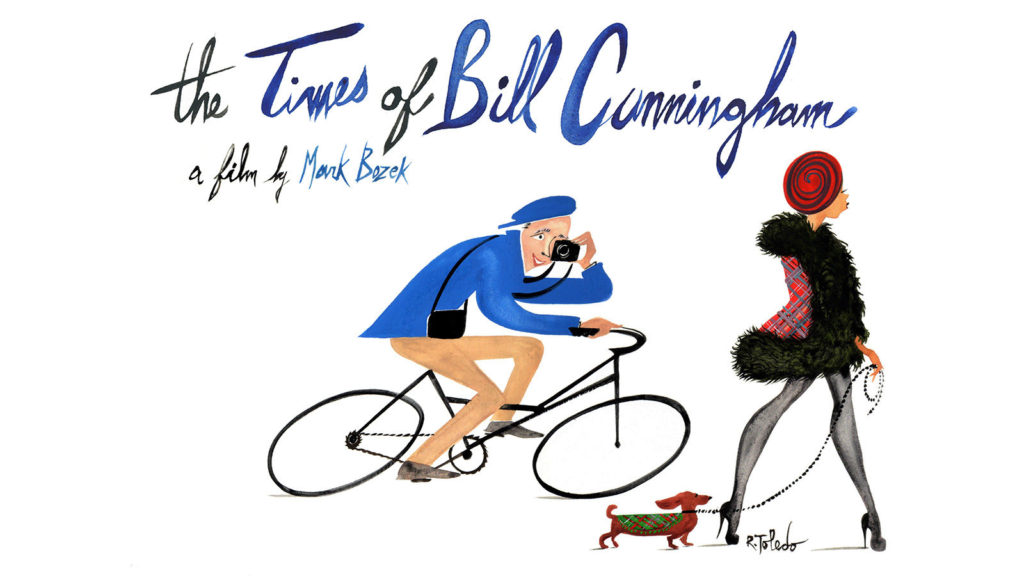 A new feature film documentary about legendary NYTimes photographer Bill Cunningham.
Told in Bill Cunningham's own words from a recently unearthed six-hour 1994 interview, the iconic street photographer and fashion historian chronicles, in his customarily cheerful and plainspoken manner, moonlighting as a milliner in France during the Korean War, his unique relationship with First Lady Jackie Kennedy, his four decades at The New York Times and his democratic view of fashion and society. Narrated by Sarah Jessica Parker, The Times of Bill Cunningham features incredible photographs chosen from over 3 million previously unpublicized images and documents from Cunningham.
The celebrated New York Times on-the-street fashion photographer gets a documentary portrait that movingly captures what made him unique.
In "The Times of Bill Cunningham," the late New York Times fashion photographer Bill Cunningham appears before us as a blissed-out aging choirboy. He sits in his small apartment, surrounded by file cabinets jammed with his work, a geek in his element, with a shock of gray hair and two jutting front teeth that give him a big rabbity smile so eager it's giddy — and the thing is, he means it. That antic grin lights up the room.
"The Times of Bill Cunningham" is the second documentary to be made about the Times' legendary on-the-street photographer and shutterbug of society, and it contains a revealing story about the first, "Bill Cunningham New York." That film was released in 2011, when Cunningham was in his early eighties (he died in 2016), and it was a profile made with his ardent approval and cooperation. So you'd assume that he might have wanted to attend the New York premiere of it. But no. He skipped the premiere, and for good measure never bothered to see the movie.
Instead, when the early spring evening that should have been his red-carpet moment was happening, Cunningham was out doing what he always did: gliding through the New York streets on his trademark bicycle, looking for ordinary people to photograph — and not-so-ordinary people, though the beauty of Cunningham's work is that he never made the distinction. He didn't see it, so he didn't make it. In one of his typical Sunday photo collages, you might encounter five different images of women on the street, each photographed wearing the same dress, all looking quite different in it, next to a shot of a celebrity strolling along in that same dress. But you'd always have to do a double take before you said, "Oh, look, it's Claire Danes," because Cunningham lent each figure the graceful mystery and radiance of a celebrity. On his weekly page, everybody was a star.
Cunningham himself became a star, though only reluctantly, in the most head-ducking and self-effacing way. He thrived on being behind the camera and behind the scenes, as he had since the 1940s, when he arrived in New York from his native Boston to work at Bonwit Teller. There's now a full-scale genre of fashion-world documentaries, a category that found its commercial niche around a decade ago, with the release of "Valentino: The Last Emperor." But something that has struck me over the last year is that there's a special, intoxicating quality to movies that excavate the fashion demimonde prior to the 1960s — in other words, the "Phantom Thread" era or before. It might be Warhol doing his shoe drawings in the '50s, or Cecil Beaton inventing the '30s fairy-tale kingdom according to Vogue, or (in this case) Bill Cunningham, a sharply grinning young man of the most innocent flamboyance, from a conservative working-class Irish Catholic family, coming to New York and deciding to become a milliner, all because he thought that women's hats could be like something out of a dream.
"The Times of Bill Cunningham" is built around an extended interview Cunningham gave in 1994 to a reporter named Mark Bozek (who's the director of the film). The interview was supposed to be 10 minutes long, but Cunningham, then 65, just kept talking. He was one of those lucky individuals who'd discovered the secret of a happy existence: If you love what you do and do what you love, you'll never work a day in your life.